Eat like who you are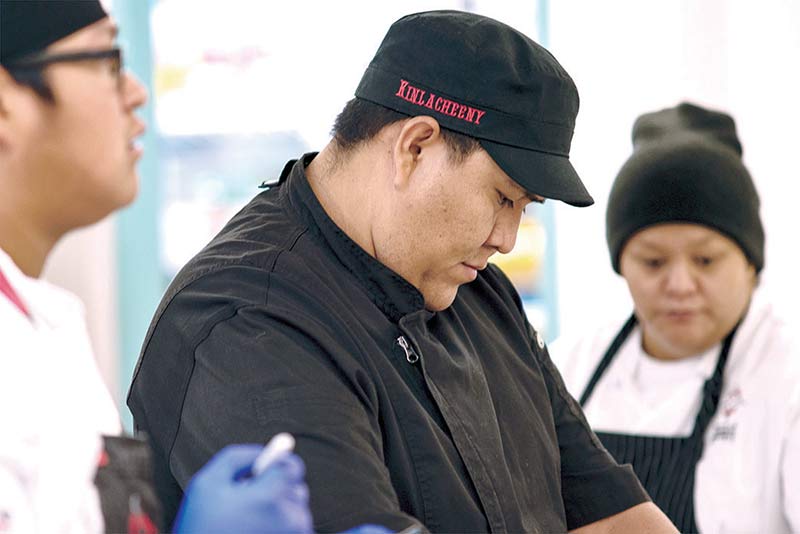 Chefs spread the gospel of Native cuisine
MISSOULA, Mont.
JD Kinlacheeny used to use a torch to weld pieces of metal. Now he may wield a miniature torch to scorch the sugar on top of a crème brulée.
Kinlacheeny, a former industrial welder and now catering coordinator at Navajo Technical University, said his wife inspired him to follow his passion.
"My goal here is to really get our students, our young Navajo kids, to understand their own traditional foods and really try to motivate them in the field they are in," he said.
By incorporating traditional foods and ingredients into everyday meals, Kinlacheeny brings identity back to the table. "I think a person should learn about traditional food because of our roots," he said. "It's who we are as Navajo, as Diné, as Indigenous people." When Kinlacheeny isn't in the kitchen with his students, he's at chapter houses across the Navajo Nation talking about the importance of healthy cooking. "We try to look at what a person would have on the rez, in their kitchen and we try to make something that would be more healthy to their diet," he said.
Kinlacheeny's goal is to eventually teach his Navajo clients how to cook traditionally, but for now he wants to make sure they have healthy alternatives. When he's teaching people how to make Navajo tacos, for example, he encourages them to use more vegetables and to use ground turkey instead of ground beef or to find a leaner ground beef.
---