Free food! Groups collaborate to deliver healthy food to Shiprock residents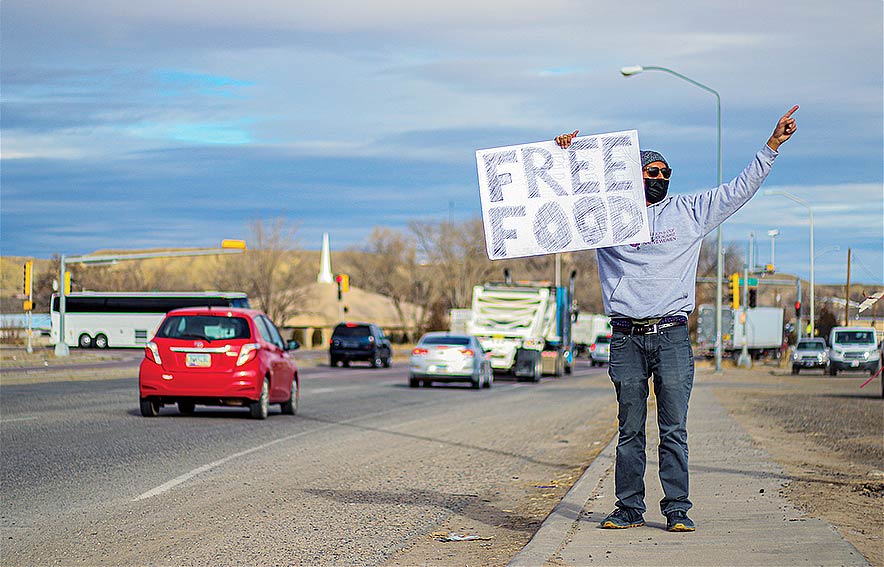 SHIPROCK
Nearly 400 veggie patties were barbecued during the free healthy food demonstration event, called "Twist Burger," on Dec. 8 at Shiprock Begay Flea Market.
The healthy meal that was distributed to community residents included a veggie burger, blue corn mush, oranges, cucumber, salad and Navajo Tea.
"Twist Burger" was a collaboration organized by Vegan Outreach, Huerfano Chapter House, Bethel Christian Reformed Church and spearheaded by Diné Introspective.
Diné Introspective is a Native-led, nonprofit, community-based organization in operation since 2017. Its mission is to strengthen Indigenous communities and revitalize families through Diné identity, resilience and ancestral knowledge to sustain a healthy lifestyle.
Founder and executive director of Diné Introspective, Kyle Jim, said, "We want change. Our relationship with food should be to heal us and to strengthen our body.
"As of now, fast foods, high-processed foods, there is no meaningful relationship," he said. "It's just a quick action food. It just satisfies our stomach from growling, it's only a temporary fix.
"In this modern society that we live in, we are always on the go," he said. "Even our wallets are stretched thin, money is stretched thin. The only thing available is fast food, low-quality foods, and in the long run, it's very harmful.
"Overall, we want to eat healthy, we want to remind people that we have farmland," Jim said. "As you eat the veggie burger, this is something we can create ourselves. On our own land that we can duplicate. Inspire others on how we look and eat food.
"It's just about returning that sense of family values back in the community," he added, "sense of care, sense of support and showing the community that I see you, I feel you, I hear you, and I can help you. It's all about k'e'(family)."
Diné Introspective received approximately 1,000 plant-based patties from their partners, Vegan Outreach. Out of the 1,000, 400 were cooked and distributed to residents during the "Twist Burger" event.
The remaining 600 patties were distributed evenly among senior homes and the Red Mesa, Beclabito, Shiprock, Newcomb and Cove communities.
Previous food distributions hosted by Diné Introspective were held at Shiprock Chapter, Shiprock Office of Diné Youth and Bethel Christian Reformed Church.
Moving forward, the next event will be a virtual food demonstration with Farmington High School. Students will be provided food boxes as they watch so they can cook alongside Jim.
Diné Introspective will continue to provide meals for communities in the future.
"The whole idea behind this event is just to help our people," said Jim.
Kyle Jim is Taachinii, born for Nadaa Diné.
Digital Extra — Watch the video here: