Youth detention center transforms into recovery center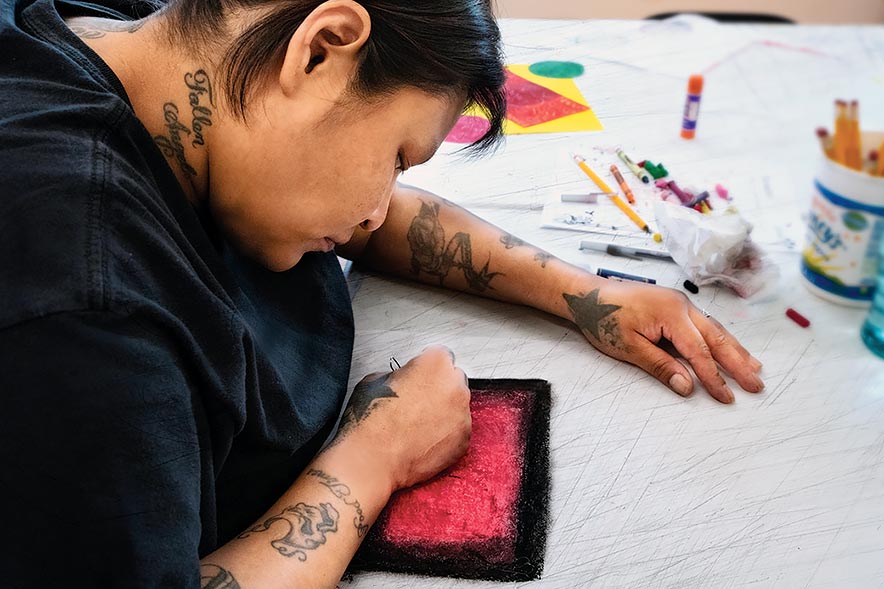 GALLUP
In a bit of good news to ring in 2021, the nonprofit Santa Fe Recovery Center has partnered with McKinley County, Gallup, the state of New Mexico and local health care providers to open a much-needed substance abuse treatment center called the Four Corners Detox Recovery Center.
"It's really been amazing, the welcoming and the support we've received from the community," said Chief Executive Officer Sylvia Barela. "It's been a lot of logistics and everyone mobilized to make it happen. I don't think we would have been able to get to this point where we're ready to open our doors without that support."
The 43-bed residential facility, which opened Dec. 28, is located in the former McKinley County Juvenile Detention Center and will offer full-spectrum medical detoxification and withdrawal management services for adults 18 and over. This comes at a time when the shortage of addiction treatment services in New Mexico has been amplified by an increase in the number of people seeking help during the pandemic.
"We definitely have seen an increase in referrals and increased acuity," said Barela. "The isolation and difficulties with the pandemic have increased the need for substance abuse disorder treatment."
'Comfortable environment'
The Santa Fe Recovery Center was founded in 2005 and has grown from a small detox and residential treatment center to a full-service campus that even includes a program where mothers can bring their children three or under with them into treatment.
"We have a full continuum of care in Santa Fe," said Barela. "We are an accredited program with years of experience in providing services." She added the new center area aligns with SFRC's goal of providing treatment options in underserved areas. "Our main focus is on care, treatment and comfort," said Barela.
"A critical piece for us is that our clients receive the care that they need and want in a facility where they're treated with dignity and respect. It's our mission, it's our values."
Barela said the whole idea for the new Four Corners Center came about last spring when the New Mexico Behavioral Health Services Division reached out to SFRC as the COVID-19 pandemic rapidly grew into a "serious situation" in the Gallup area. Barela explained that was primarily because the one community detox center in Gallup, Na' Nizhoozhi Center, had transitioned to predominantly providing detox services for COVID-19 positive clients after an outbreak there.
"There were no detoxification services in the community for a while for individuals who were COVID-19 negative," she said. "That was putting a tremendous strain on the hospitals."
By the beginning of July, in partnership with Gallup and McKinley County, they began looking for a space to house the new program and the county suggested the "old" juvenile detention center on Hasler Valley Road, which is actually a fairly new building.
"It's going to be a really nice location for this program," said Barela. She said the building is in "very good condition" and they have reconfigured the layout to accommodate their services.
"I know it's a little odd, but we are providing a voluntary program," said Barela. "It is not a jail or lockdown facility. With the minor modifications we made, we feel it is going to be a very comfortable environment." Barela said it's taken several months to work through all of the logistics and obtain the required certifications, licenses, and zoning changes as well as order all of the necessary supplies and hire new staff, which has been challenging during the pandemic.
"The city of Gallup and McKinley County have helped tremendously," she said. "They helped us navigate the process of getting the building set up and have invested their staff, time and resources to help make that possible."
Filling the gaps
Treatment modalities used by the SFRC include the Matrix Model, 12 Step Program, and cognitive behavioral therapies, but Barela stressed that they work hard to tailor treatments to the individual.
For example, they have incorporated therapies such as sweat lodge, drum circles, acupuncture, yoga, gardening and art into their programs. "We have always worked hard to make our programs culturally sensitive and responsive to the needs of the clients," she said. "We know that there isn't a single modality that works for all clients so our treatment programs have always been really individualized."
Barela anticipates developing a similar approach in Gallup where they have been working with consultants from the Navajo Nation and Zuni Pueblo and are doing their best to hire individuals who are representative of the different cultures in the area who can be responsive to the specific needs and of the community.
"We're really excited to help augment the services in the community by filling in gaps," said Barela.
Those who wish to seek treatment at the Four Corners Center must first test COVID-19 negative and receive medical clearance before they can enter the program.
Anyone in need of a hospital-level of care because of an overdose or life-threatening blood alcohol level will need to be stabilized in the hospital first, but they will have registered nurses on staff at the center who can provide ongoing care and administer medications.
"We have a medical director who will be providing oversight and we will have on-call medical professionals around the clock," said Barela.
She said while the center will be a "COVID-19 negative" unit, the threat of a possible COVID outbreak is still a reality of service provision in any congregate setting and they are going by all of the COVID-19 safe practices including mandatory masks, temperature checks, sanitation protocols, and testing as needed.
"We're operating with the highest safety standards but we know that the pandemic is a very real consideration that we need to plan around and have contingencies for," said Barela.
They are also working with the state health department to plan for vaccine administration, she said. "We definitely believe that the vaccine will be a tremendous help to congregate care centers statewide including detox and residential services," she said. "That is light at the tunnel and we do believe that will make a significant difference and help us all to operate more safely."
Barela said the Center has multiple funding sources, but they receive most of their reimbursements through the New Mexico Behavioral Health Services Division and Medicaid, which now covers detoxification and residential treatment services.
For individuals who do not have Medicaid, state funding is also available, and they are working on a way to bill services for out-of-state residents. "Generally, we are able to find a funding source for most people who apply," she said.
Barela said continuing to partner with community and health and human services entities is also going to be key to successfully treating patients. "It really is through that community and partnership approach that sustainable recovery is possible," she said. "We are an essential services provider and we'll continue to be here for our clients because there really is a severe need."
Information: www.sfrecovery.org or 505-490-7270.
---