ATCR focuses on inclusivity at Indigenous Day concert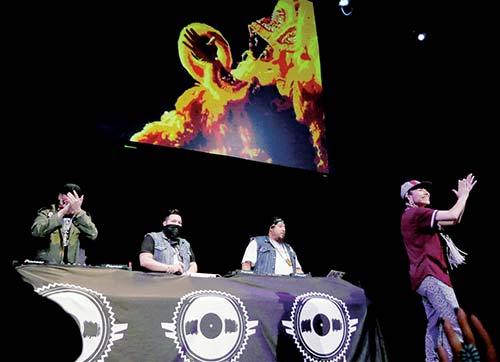 DURANGO, Colo.
The energy at the Fort Lewis Community Concert Hall on Oct. 10 was so electric that even Christopher Columbus would probably have caught himself dancing to the music of A Tribe Called Red.
However, Columbus would be dumbfounded because Monday was a day to recognize the resilience and success of Indigenous people across the world for Indigenous Peoples Day.
ATCR, the well-known Indigenous electronic music group out of Canada, capped off the 9th Annual Real History of the Americas event at Fort Lewis College with a strong performance that had the large crowd of students and community members dancing and screaming in celebration.
It was a day full of positivity focused on taking a different look at the history of North and South America through the lens of Indigenous, Hispanic, African-American, Asian, and LGBT peoples with the intent of increasing awareness and appreciation of the histories of marginalized peoples and ATCR embodied the sentiment wonderfully through their performance.
The music group's website states, "ATCR promotes inclusivity, empathy, and acceptance amongst all race and genders in the name of social justice. They believe that Indigenous people need to define their identity on their own terms."
Above the DJ collective on stage was a large screen showing images and video clips of stereotypical representations of Indigenous peoples throughout the show.
The imagery shown behind the DJs directly clashed with the reality of what was going on; a modern and growing reality of Indigenous artists representing themselves and their people to the world on their own terms.
---