Megadeth 'Crush the World Tour' heads 75th Annual Navajo Nation Fair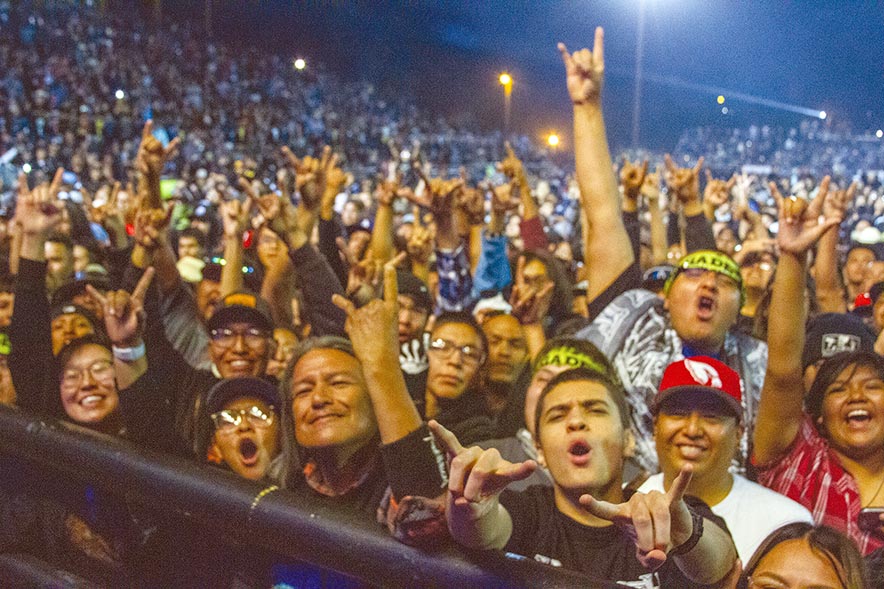 WINDOW ROCK – The Droogies came out en masse to support Megadeth's headlining performance for the 75th Navajo Pearl Anniversary for the Navajo Nation Fair Sept. 7.
Megadeth is Dave Mustaine (guitar/vocals), James LoMenzo (bass), Kiko Loureiro (guitar), and Dirk Verbeuren (drums).
The band is promoting its latest album, "The Sick, the Dying, and the Dead," on the current "Crush The World Tour" that began April 26 in Everett, Washington, and ends Oct. 5 in Reno, Nevada.
Loureiro had to leave the tour Sept. 6 because of a family emergency, and guitarist Teemu Mäntysaari stepped up to fill the role for the rest of the remaining tour dates for Megadeth.
Packed arena
According to estimates provided by the Navajo Nation Fair Office, the Los Angeles-based thrash metal band pulled in an audience of more than 10,000 people.
The anticipation and excitement for the band was palpable as the line to get into the Dean C. Jackson Memorial Arena stretched past Gorman Hall and beyond the 4-H arena.
The line was four to five people deep as fans stood patiently waiting to get into the show.
The merchandise booth was already selling out of popular sizes for Megadeth T-shirts shortly after 8 p.m., but that didn't stop fans from flooding the booth.
Many were stoked that Window Rock was included on the tour dates on the shirts' back.
Read the full story in the Sept. 14 edition of the Navajo Times.
---