PV grad excels on UTEP rifle team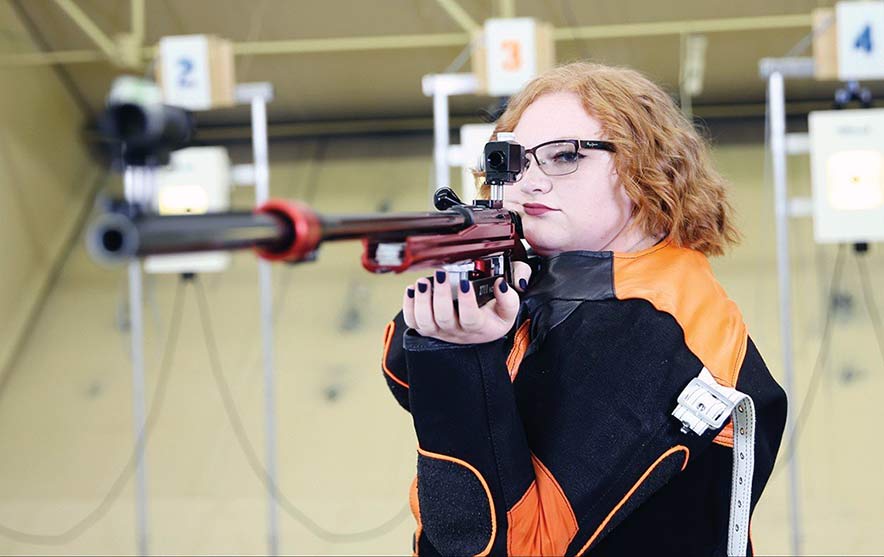 By Barbara Boxleitner
Special to the Times
CAPE CORAL, Fla.
Years of smallbore shooting gave Amoret McCartney an advantage when she started her college rifle career.
The Piedra Vista High graduate competed in two disciplines last year as a freshman in the University of Texas at El Paso women's rifle program.
UTEP head coach Austin Litherland said having a freshman so adept at smallbore "was very, very needed."
"She's a wonderful smallbore shooter," he said. "Normally air rifle is their strength. A lot of people don't have the opportunity to shoot smallbore."
McCartney said she started shooting smallbore in eighth grade through 4H and air rifle the next year at high school.
"I do prefer smallbore," the sophomore said. "I'm much more confident."
Because of her proficiency in each discipline, she competed in all 12 UTEP matches and finished with the third-highest aggregate average, 1138, on the squad. Her 566 smallbore average was three points behind that of the team leader, and her 572 air rifle average fifth.
Against No. 1 ranked Texas Christian University, she set career highs with a 1153 aggregate and 575 smallbore to lead the team in the loss. She had the team's third aggregate during its NCAA Qualifier match against Alaska-Fairbanks.
"She has very good fundamentals," Litherland said, noting her point of aim, trigger pull and thought process. "She's a great competitor."
In addition to her success during competitions, McCartney was recognized for her academic performance. She was cited as a Collegiate Rifle Coaches Association Scholastic All-American and received a Conference USA Commissioner's Academic Medal.
A chief adjustment to college rifle was shooting at electronic targets after shooting at paper targets for five years, McCartney said.
She also had to get used to the increase in rounds. For ROTC in high school, she took 60 shots for air rifle. For 4H, she shot 60 in smallbore.
"I never combined the two to do in one day," she said.
College matches require 120 rounds, including 20 while kneeling, 20 while prone and 20 while standing for smallbore. She stands for the 60 in air rifle.
"It is very stressful on your back and hips, elbows and shoulders," she said. "It is more demanding than people expect it to be."
Litherland works with all the Miners to build their mental fortitude and concentration, having them try techniques to see what helps their thought process.
"It's only 10 percent physical," McCartney said of the sport.
She has focused on controlling her breathing because, she said, accelerated breathing "can cause your shots to move."
Despite her competitive history, she said, "Even at the end of the season, I was nervous. It's like you're playing with the big dogs."
Three to four times a week during the summer she practiced her technique without actually shooting bullets.
"COVID made it extremely difficult to shoot because ranges were closed," she said.
So at her home, she worked on her technique, especially her hold and her focus, and she created a journal to document any problems and how she coped with them. She intends to consult and maintain the journal in coming seasons.
"I'm very excited," she said about being in the program, her first as part of an all-female team. "I'm so thankful for it."
---