'One day that could be me': With plethora of opportunities, Curley chooses UofA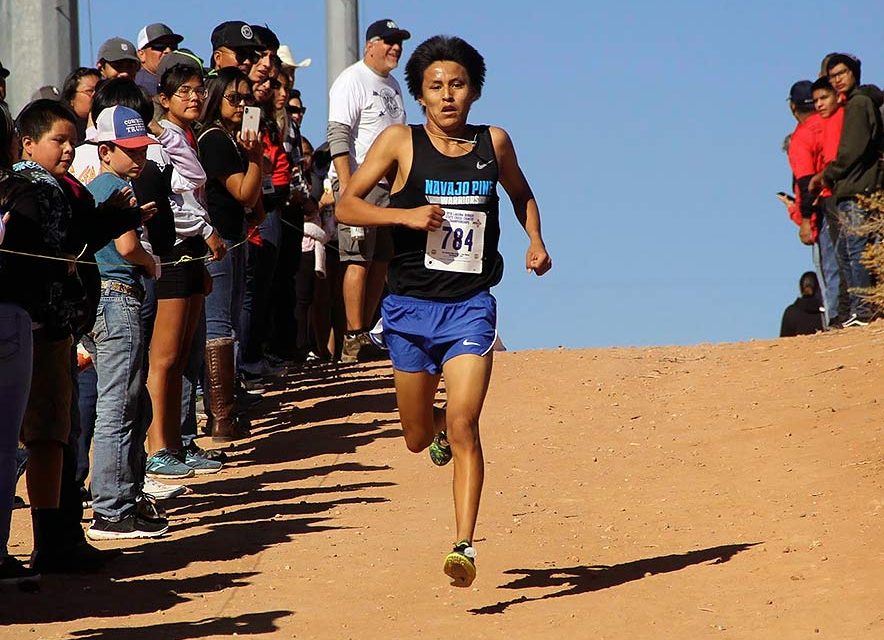 WINDOW ROCK
After seeing his stock rise his junior season, Galvin Curley became more motivated.
The former Navajo Pine standout captured two state crowns that year, one in cross-country and the other in track.
For his senior year, Curley defended his cross-country title but due to the coronavirus pandemic he was unable to pull off a two-peat in the 3,200-meter run this past May with the cancellation of spring sports.
Nevertheless, his rise as one of New Mexico's prep elite runners earned Curley a plethora of opportunities to run at the next level.
Without hesitation, the 2020 Navajo Pine graduate settled on running for the University of Arizona men's cross-country and track team.
"This has been a big blessing for me, my family and my community," Curley said. "I live in a small community and you really don't get Division I coaches looking at athletes. I feel like all the training I did, the early morning and late night runs, has paid off."
Despite receiving other offers, Curley said he fell in love with the Arizona program, which is headed by Dr. James Li.
"I chose Arizona because of the coach," Curley said. "He's turned a lot of runners into Olympians and one day that could be me. The coach has been very supportive of where I'm from and who I am."
Li said he's looking forward to working with Curley as the Diné athlete committed to Arizona in March of this year.
"I'm really delighted to have him," said Li, who enters his 17th season as the Wildcat head coach. "I think he's a great kid and he's going to be a really good runner."
Li said they had planned on bringing Curley for a visit in early March but those plans were spoiled when college campuses across the nation began to close because of the pandemic.
Admittedly, Li said he hasn't been able to evaluate what Curley brings to his program but he's confident that he'll succeed.
"I've talked to (Galvin) a lot and I really like his attitude," he said. "We've talked about his aspirations and the things he wants to do. He's made some sacrifices coming down to Tucson to be a part of our program and my feeling is this guy is not going to fail."
Curley said running with the Wildcat program fulfilled his dream of competing as a Division I athlete.
"Once I committed to running my junior year in high school I wanted to run for a Pac-12 school because it's the most competitive conference in college," he said.
Due to the uncertainty of the possible long-term affects connected to coronavirus, the Pac-12 Conference has postponed all sports until 2021.
Li said it's highly unlikely that the cross-country season can be salvaged next spring but the NCAA has not made a final decision yet.
If it can be salvaged, the Arizona coach said it would be difficult to have both the cross-country and track seasons coincide with one another.
"The NCAA is still talking about it and the Pac-12 will take their cue based on their decision," he said. "It's in discussion but most likely there is not going to be a cross-country season this year."
Like most athletes, Curley said he's disappointed that the cross-country season has been cancelled.
"I was looking forward to it," he said. "I definitely worked really hard over the summer to prepare for it. For it to be cancelled is kind of a bummer. It is what it is so right now I have to focus on the track season."
Curley said he would like to train for both the 3K (indoors) and 5K (outdoors) races next spring.
"It really depends on what my coach wants me to race," he said, adding that he's developed a rapport with his new teammates.
"They're really supportive and what's great about them is them is they're really motivating," Curley said. "I can't wait to race with them."
Curley is currently in Tucson taking online classes. He's studying physiology and medical science.
"I'm looking to be a physical therapist in the future," he said. "With that major it's going to help me get better knowledge in what I'm going to be doing in a few years."
One of the top runners to come out of the storied Navajo Pine program, Curley said his passion for running started in the seventh grade when he was coached by former Gallup standout Brandon Leslie.
"He's been one of my biggest inspiration," he said of his middle school coach. "I used to hate running but when I met coach Leslie he changed my perspective. He taught me the basics and I just grew in love with running. He's one of the reasons why I'm here because he's definitely made an impact in my life."
Curley also credited his high school mentors: head coach Kyleigh Thompson, assistant coach Erik Goodsoldier and athletic director Sean Manuelito.
"They were part of my support system," he said. "They were always there for me."
In addition to his mentors, Curley said his immediate family gave him the necessary tools for him to thrive.
"They've sacrificed a lot for me," he said of his family, which consists of nine siblings and parents Alvin and Bernice Curley.
"My parents are the reasons why I'm running in college," he said. "I've seen them struggle to make my dreams come true. They would tell me to not worry about things, just worry about running and focus on school.
"I can't thank them enough and hopefully I can give it all back one day," he added.
---