'We take care of the fire': A flood of emotion for sáanii siláołtsooí at historic inauguration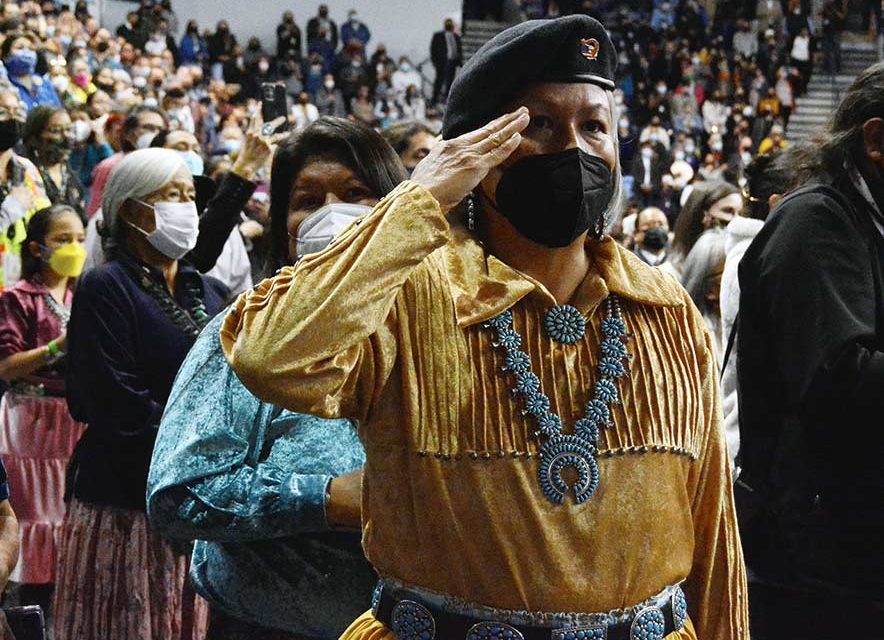 FORT DEFIANCE
The Diné Sáanii Siláołtsooí Color Guard Jan. 10 brought the Bee Hółdzil Fighting Scouts Events Center to complete silence at the Navajo Nation Inauguration of the Nation's youngest president and the first female vice president.
Detail Cmdr. Maj. Edna Ashley, who served in the U.S. Army, led the color guard. Her years of active duty were from 1984 to 2014. She enlisted as a private and retired as a major.
Ashley is Naasht'ézhí Naadą́ą́' Łigai Dine'é and born for Hashk'ąą Hadzohó. Her maternal grandfather is Bit'ahnii, and her paternal grandfather is Tódích'íi'nii.
Ashley served in Operation Iraqi Freedom in both northern and southern Iraq. She later joined Colorado Army National Guard as a medic. Then she transitioned to New Mexico Army National Guard, where she was the first female to be commissioned in the state. Ashley retired in 2014 and had worked several civilian jobs for the Navajo Nation, helping establish the TANF program. She also worked for the State of New Mexico Veterans Service Commission, New Mexico long-term Disabilities and Income Support Division, and she now cares for her elderly mother.
Reflection
Ashley was flooded with a reflection of her years of service as she stood in the event center. What resonated for her in all her experience was the lack of women not being in leadership roles, not because women were not qualified, but because women were not taken seriously.
"Becoming the first female commander was a big transition," Ashley said.
After she earned her commission, she became a platoon leader for a transportation unit in Gallup, where again she faced frequent obstacles from male counterparts who challenged her at every turn. Most units she served were primarily men led by male leaders, so the transition for them was difficult. She was hopeful; however, she believed women were not treated or respected regardless of rank in the same regard as men.
Over the years, when needing reassurance during these obstacles, she relied on her parents, who encouraged her to continue to fulfill her dreams because an essential part of being a Diné is always to progress forward to be resilient.
"My mother reminded me that Diné women were always warriors," Ashley said.
Regardless of what history may say, Diné asdzáán were lookouts in early battles. Although not many were in leadership roles, asdzáán has always played a significant part in Diné history, said Ashley.
Her daughter, who serves in the Army, was recently inducted into the Sgt. Audie Murphy Club in September 2022. She is proud of her daughter, who is making her journey breaking barriers and progressing asdzáán in leadership and elite roles in the military.
Ashley described her reaction as she witnessed Vice President Montoya and all the Diné asdzáán leaders taking their oath as a pivotal moment solidifying that things are really changing.
Upon finding out what other veterans were selected, Ashley was delighted to reunite with Linda Onesalt, Helena B. Anthony, Angela B. Nez, and Mary T. Cohoe. The group in 1998 all traveled together to the Women Veterans Memorial in Washington, D.C. She also was reunited with Laris Manuelito, who she was deployed with in Iraq and hadn't seen since 2010.
She wants to relay a message to all those on active duty: "There is a solid wall of prayer that is protecting you. You are remembered, and you are thought of no matter where you are in the world. Somebody here on Navajo or anywhere someone is praying for you."
She also wants to thank her family and friends who have impacted her life. She appreciates all the love, support, and encouragement she receives.
Significance of the colors
Carrying the U.S. flag was Helena B. Anthony, a Marine veteran sergeant who served in Vietnam from 1967-71.
"We are all aware of the significance of posting of colors during this unique inauguration," Anthony said.
She elaborated that she had to think about all the veterans, both women and men, and try to represent all of them in the best honorable they could in the short time that they had, said Anthony.
She believes welcoming a young president is a great transition for the Nation. She adds that she was impressed after listening to Montoya during the campaign season.
"We knew we had to do an honorable display," Anthony said. "The crowd was enormous, and understandably so, everyone was excited. However, it did make it difficult to hear the cadence calls and walk up the narrow stairs, but of course, we carried it out."
Anthony currently lives in Mexican Springs, New Mexico. She will be welcoming her 75th birthday this year.
Anthony explains the honor she felt being a part of history once again. She expressed her gratitude for having been a part of many color guard postings and now completing such a prestigious honor at the inauguration.
She believes she has done well in her life and career, honoring her fellow veterans. She is content and proud of what she has accomplished, and now she is ready to hang up her beret.
The Navajo Nation Flag was carried by Elciena "CiCi" Baker, a U.S. Navy and Army veteran.
Baker was an operations specialist petty officer third class at the Naval Station Norfolk in Norfolk, Virginia, and on the U.S. Atlantic Fleet. Baker's tour of duties has included Operation Enduring Freedom and Operation Iraqi Freedom from 2002-06; U.S. Army Reserve, supply specialist, 1st Battalion, 355th Regiment Company D in Round Rock, Texas, from 2011-14.
Baker expressed her honor and gratitude to have partaken in the inaugural ceremony representing Diné Women Veterans as a Diné Sáanii Siláołtsooí Color Guard.
Baker is currently a member of the Nazlini Chapter Veterans Organization, serving as vice commander. She also serves at Central Agency Veterans Organization as secretary and is a Navajo Nation Veterans Advisory Council member. She is currently a general manager at a non-profit organization in Holbrook.
Baker's hometown is Three Turkey Ruins, Arizona.
The Arizona State Flag was carried by Shaina Roanhorse, who served as a U.S. Army National Guard specialist from 2012-19 (MOS-88M Transport Logistics, 1404th Trans Company at Camp Navajo in Bellemont, Arizona).
Roanhorse completed basic training in Missouri and graduated there as well. Her military occupation specialty is in transportation and logistics.
Roanhorse is Tódích'íi'nii and born for Honágháahnii. Her maternal grandfather is Tábąąhá, and her paternal grandfather is Tsi'naajinii.
A feeling of honor
Roanhorse is 34 years old and felt the inauguration was a phenomenal experience. The enormity of it all didn't faze her until she and the team lined up and heard and saw the crowd filling in, the symbolism of the day. She knew at that moment that this was bigger than she thought it was.
The highlight for her was Montoya, who personally came over to thank them for their service and say that she was happy they were there. Roanhorse felt a feeling of honor to have shared such a touching moment.
She is beginning to launch a non-profit this year for veterans and guardsmen. She believes the veterans are underserved, and a non-profit can provide a broader, easily accessible alternative than funding from the Nation.
She wants to utilize the wealth of experience veterans have but is always overlooked. She is passionate about helping the transition from exiting the military to civilian life. Her background is in human resources, and there is a great need to assist veterans through that process.
She hopes to educate the public about the life of a military veteran. They are often misunderstood, so she intends to bridge that gap with her non-profit. Her goal is to open veteran resources centers throughout the Nation that will assist veterans with resumes, job searches and interview skills, housing, benefits process, and personal financial planning and management.
Roanhorse is from Indian Wells, Arizona.
Representing communities
The New Mexico state flag was carried by Linda Onesalt, who's Honágháahnii and born for Tsi'naajinii. Her maternal grandfather is Tódík'ózhí, and her paternal grandfather is Naasht'ézhí Táchii'nii.
Onesalt is a U.S. Navy veteran who served as an engineman petty officer second class stationed in San Diego. Her second command was the Persian Gulf War from 1991-95. She supports her local communities of Oak Springs and Pine Springs chapters and serves as a vice commander for the veterans organization.
She is also a co-commander for the Fort Defiance Agency Veteran Organization and a Navajo Nation Veteran Advisory Council member.
"We made history," Onesalt said. "I don't ever recall having an all-women color guard posting colors for such a major event for the Nation, especially during a presidential inauguration.
"I am very honored to have done that with my fellow veteran sisters," Onesalt said. "I feel that it is a great honor to have been asked to do such a thing. There was no doubt that I would do it proudly, representing my community and my family."
Onesalt elaborated on her feelings of being surrounded by her fellow sisters. They represented all eras from Vietnam too (OEF or OIF) – all served during a conflict, saying that is stuck a cord with her. She struggled to find words to express that happiness because she says it is hard to capture. She was overcome with joy that now the Nation finally recognizes that women have the qualifications to hold these high service levels.
A milestone was set in her own family by being the first female on both maternal and paternal sides to fulfill duties in serving in the military, which paved the way for her cousins, nieces, and all family after her.
"It was my auntie who inspired me," Roanhorse said.
Looking forward to the next generations, Onesalt hopes the day inspires the youth. She wants them to see what Diné women can do. She proclaims that women are not just home caretakers but are contributors to all Diné and Diné Bikéyah.
Onesalt hopes that what they did on Inauguration Day travels far and wide to other tribal nations and veteran organizations so they can see the impact of welcoming these overdue acknowledgments and making changes in their communities.
Onesalt resides in Rock Springs, New Mexico.
Manuelito descendant
Laris Manuelito carried the Utah flag. She is a U.S. Army decorated combat veteran who served from 2006-12. She was a specialist four in Operation Iraqi Freedom (qualified airborne paratrooper, 515 Sustainment Battalion New Mexico National Guard). Manuelito is from Tohatchi, New Mexico.
She is Naakaii Dine'é. Her maternal grandfather is Nát'oh Dine'é, and her paternal grandfather is Tó'áhání.
Manuelito is a descendant of her great-grandfather, Chief Manuelito. Laris enlisted at 33 with three children. She said her family helped support her and her children through this transition.
Most of Laris Manuelito's service was through the National Guard. She shares some challenging experiences that she and others endured being told that they weren't really soldiers being that they were in the National Guard. However, when Manuelito was deployed and trained alongside the active-duty military, they helped change that precedence a lot.
"We are taken more seriously," Manuelito said. "We can be a resource in a deployment capacity and for state and federal emergencies. This again is another barrier broken."
She attended jump school in Fort Benning, where she became a paratrooper and earned wings. She says being Diné in the military is an accomplishment. But being a Diné asdzáán in the military is unique, and to do that by choice and to be allowed to do so was achieved with great skill and effort, again breaking another barrier.
Fierce protection
Manuelito received an Army accommodation award when she was deployed, with several ribbons. About four years ago, she and four other asdzáán received a Quilt of Valor in Santa Fe, New Mexico. She was proud to have been honored and recognized at that level as an asdzáán veteran, which was meaningful to her.
"It was the deities, our Creator, who allowed things to happen the way they did," Manuelito said. "I truly feel that there was a divine intervention overall showing that this was a beginning of how we as a Nation are going to transition."
She chose to post the colors to honor her late great-grandfather and carry his name and honor the sacrifice they made.
"I have fierce protection for my people," Manuelito said. "I want to help them in any way that I can, and I feel that is what I inherited from Chief Manuelito––the love of my people.
"We, as asdzáán––we take care of the home; we take care of the fire. We are nurturing; we love, we have patience. We are also soldiers, paratroopers; we serve in all branches of the military and the National Guard. We are here."
The prisoner-of-war flag was carried by Mary Tsinnijinnie Cohoe, who served in the American Red Cross Vietnam from 1968-69 (Americal Division landing zones, firebases; Cam Ranh Bay Air Base, 12th Combat Support Group). Cohoe's hometown is Pinehill, New Mexico.
Cohoe describes the American Red Cross Supplemental Recreational Activities Overseas). She said there were only 627 women in this program with the American Red Cross, and at that, Cohoe believes that she may have been the only full-blooded Diné asdzáán.
She began way to the district., where many screening interviews took place, ensuring candidates were suited and ready for Vietnam. She eventually served all the military branches.
The Americal Division is an Army division, probably the largest in Vietnam. Cohoe also served in the combined action platoon and active Marine aircraft groups.
She has been involved in a few documentaries about her experience and journey of her service. She is proud of her accomplishments and experience, which can be used as a resource to help understand the benefits an element endured during that time. She continues to be a resource and advocate and speaks with gratitude for her experience.
Cohoe hopes the historic event encourages young people to learn about Diné culture. She believes that it is the Diné asdzáán who are driving this change and believes that these changes are giving enlightenment for them to reflect inward on what it means to be a Diné and how to carry that one to subsequent generations.
The Diné Sáanii Siláołtsooí Color Guard wishes to recognize Angela "Angie" Barney Nez, a U.S. Army veteran.
Nez had a critical role in orchestrating all the events for the Dine Sáanii Siláołtsooí Color Guard. She orchestrated the C-130 flyover with the Pentagon.
She was respectful of the significance of the day in many aspects and worked so diligently with tenacity.
After many emails, calls, and hours from early morning to the late evening, the Color Guard said Nez didn't tire because she understood a lot depended on her. She wanted to represent all veterans with the respect and honor they deserve.
The Diné Sáanii Siláołtsooí Color Guard incorporated their uniform to represent the colors President Buu Nygren used during his campaign to add to the significance of the day.
The colors were gold, turquoise, and black. They also included the color white, one of the Navajo culture's cardinal colors.
---