Young violinist gets anthem gig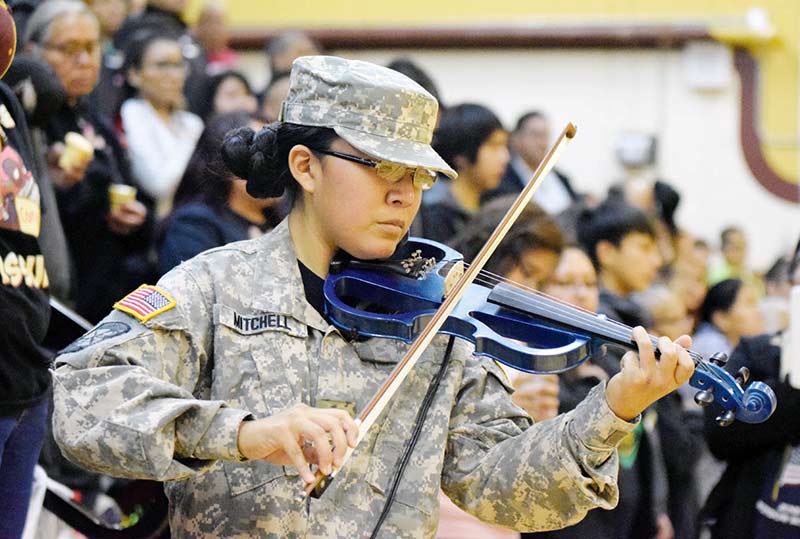 WINDOW ROCK
When Amy Mitchell was nine years old her mother, Charlene Mitchell, asked her if there was an instrument that she wanted to learn.
She decided to give music a chance and chose the violin.
"It was partly due to my older brother," she said, "he was learning piano at the time. So, I just decided, Why can't I do something like that too and learn the violin?"
Last week, at 15, she played the national anthem at her high school for the first time. Mitchell is a sophomore at Tohatchi High School and she played before last Thursday's basketball game.
"I was also kind of excited to show them something that I could do," Mitchell said.
It was the largest crowd she had ever played in front of.
"I'm not really used to playing in crowds like that," Mitchell said. "I got kind of nervous beforehand and during. That's just what really got me."
During the performance there were a couple of moments where the violin was a little off-pitch.
"Ugh … the performance I think I did all right," she said. "I realized there are still things I need to work on but overall I think it went well."
But Mitchell's mother, Charlene, has a saying: "You start something, you finish it, or master it."
Mitchell started taking formal lessons again. She's been doing them on and off since she was 9. She started taking lessons again with a new instructor after her last one moved to Kentucky.
So her family drives her to and from Gallup every Saturday morning for violin lessons.
"It's just a very fun thing to do," she said. "It's a fun hobby and it presents more opportunities to me."
One of those opportunities is to be a violinist playing with the Gallup Symphonic Orchestra. Her violin instructor, Charlsie Ashbrook, invited her to join and she will be starting practice with them next week.
"It's nerve-wracking you could say, but I'm also excited that I get to be around others who have more experience and to learn from them," Mitchell said.
From what Mitchell was told, she is the youngest violinist in this year's Gallup Symphonic Orchestra.
She will be doing this alongside her other extracurricular activities like jiu jitsu and her school's color guard.
---