2A boys state playoffs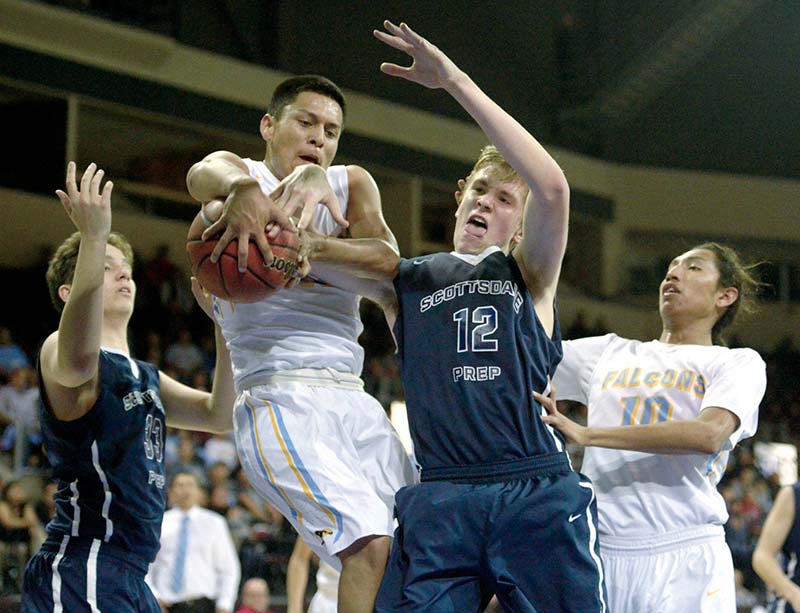 Sixth-man buoys Alchesay to victory
PRESCOTT VALLEY, Ariz.
The sixth-man for the Alchesay boys' basketball team made their presence known last Saturday night at the Prescott Valley Event Center.
The Falcon faithful buoyed No. 3 Alchesay to a 71-49 victory over Scottsdale Prep, the No. 11 seed, in the quarterfinals of the Arizona 2A state boys basketball tournament.
"I think so," Alchesay coach Kyle Goklish said when asked if their fans rattled the Spartans, who boasted 10 players over 6-3. "We have a good following and Alchesay is always known to have that sixth-man. The kids enjoy really playing in front of them."
With the fans behind them, Goklish said his kids fed off that energy as they kept the momentum on their side for most of the night.
Alchesay started to pull away late in the first quarter when senior forward Harley Upton spearheaded a 5-0 run with a pair of steals. The 2A North Player of the Year hit a pulled jumper from the beyond the arc and after making that he got the fans going with a layup for a 17-11 advantage after one quarter of play.
"He has a lot of heart in his game," Goklish said of Upton. "He's about 6-3 but sometimes he plays bigger than that."
The Alchesay coach said Upton's foot speed and footwork surprised the Spartan team, as they could not stop him. In the first 16 minutes Upton had 17 of his game-best 23 points at the half, including nine in the opening quarter.
"Harley was mentally focused," Goklish said. "When he gets going the rest of the guys get going too."
---