Begaye: Factories are on their way to Navajo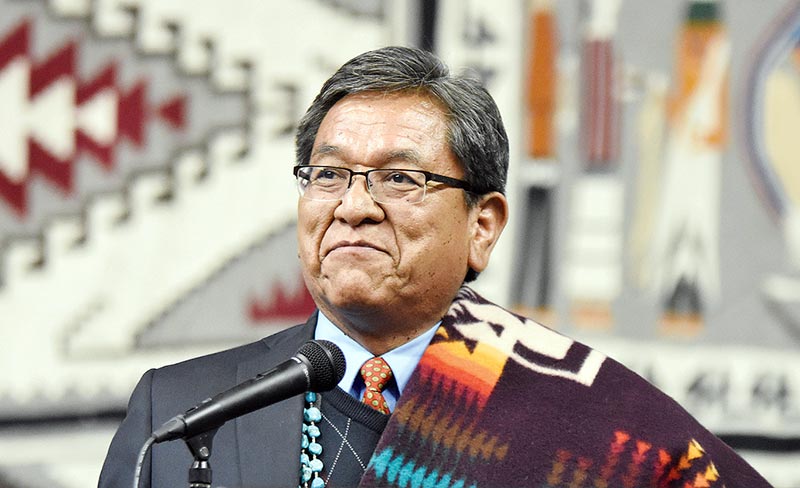 WINDOW ROCK
One thing Navajo Nation President Russell Begaye will long remember from this past year is standing inside one of the biggest warehouses in the world.
The warehouse was owned by Boeing and contained 767s, 747s, 777s and the new 787s being built for various airlines across the world. "As we went through the warehouse, company officials were asking me which airplane the Navajos would be able to help them out with," said Begaye, adding that the officials said they knew the Navajos had the ability to produce some of the parts needed for the planes at plants the company would build on the reservation.
"I got really excited," said Begaye. Here was a company that was actually asking tribal officials to become part of their family of suppliers. But Boeing wasn't the only company pushing the tribe to supply parts. The biggest story coming out of the past year, as far as Begaye is concerned, is a game-changer that he thinks will soon bring in tens of millions of dollars in new revenue to the tribe as well as producing hundreds of jobs for Navajos.
Begaye and economic development officials have been working behind the scenes this past year, talking to companies about setting up operations on the reservation. Begaye stressed that this isn't just political rhetoric but actual promises from companies who want to partner with the Navajo Nation.
This stems from two events that occurred this past year, one outside the reservation and another on the reservation. The off-reservation event enters around the election of Donald Trump as president of the United States. Only a small number of Navajos supported Trump in the 2016 election and while the new president has been looking at cuts in some programs that provide grants to the tribe, his promises to force companies to bring jobs back to the reservation is having a very positive effect on the creation of jobs on the reservation.
The Navajo Nation is now in third place in the world, Begaye said, as places companies are looking at for future expansion. In first and second place, because of the low wages, are Mexico and China. But now companies are looking at the Navajo Nation as well, according to Begaye, because of tax advantages that have been put in place that set the Navajo Reservation on an even keel with places like China and Mexico — and it has the extra advantage of appeasing Trump in keeping jobs in the United States.
At the same time, the Navajo Nation Council this past year approved an initiative put forth by Begaye with the creation of the Naataanii Development Corp. to work with companies who want to set up operations on the reservation.
---