Farmington airport boasts bigger planes, more seats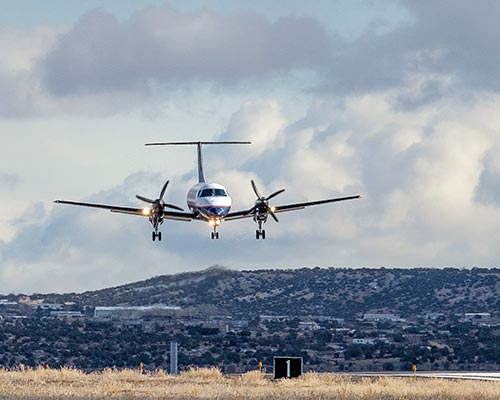 FARMINGTON
A brisk, strong wind blew out of the west Saturday morning and the temperature was a chilly 28 degrees as Capt. Joe Linnebur approached the runway at Four Corners Regional Airport from the east at a 3.5-degree angle.
Once on the ground, he applied the brakes then taxied to a stop outside the small airport that serves Farmington and surrounding communities, including many locations on the Navajo Nation.
"Happy to be here," Linnebur said to a small crowd of reporters, dignitaries, and airport staff.
The successful landing, one of tens of thousands to occur during the last 70 years on this airstrip perched atop a plateau, was not noteworthy in itself. But Linnebur was piloting a 30-seat Brasilia turbo prop on its inaugural flight into Farmington.
The flight marks the first of what will be regular service to and from Denver and available through Great Lakes, the only airline serving Four Corners Regional Airport.
The service, which will run Wednesdays and Saturdays to start, adds 60 more seats to and from Denver per week, or 3,120 more seats per year.
It also comes with unprecedented luxuries for passengers accustomed to the smaller, 19-seat Beechcraft that usually serves Farmington. Now, two days per week, air travelers can enjoy the convenience of an on-board lavatory and the services of a flight attendant during the hour-long trip.
"This is a bigger airplane," airport manager Mike Lewis said. "We'll have flight attendant and bathrooms, and we'll be able to provide a drink or a little snack on the way to Denver. It will be nice."