'Heroes without capes'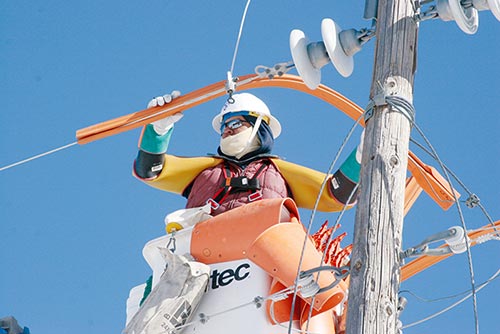 Navajo Transit enduring many problems with funding
WINDOW ROCK
As Navajo Transit riders deal with bus issues, some might be wondering what's going on behind the scenes.
The Navajo Nation Transit System has had to shut down regular bus routes around the Navajo Nation.
"It's unpredictable and unreliable," said Elizabeth James, a transit rider from Chinle.
As of Wednesday, Route 13 (Fort Defiance, Crownpoint and Gallup) is shutdown. And routes 12 traveling from Kayenta to Tuba City, 11 (Flagstaff to Tuba City) and 02 (from Steamboat to Fort Defiance) were all "temporarily out of service," according to the Navajo Transit website.
"It's unfortunate because the riders, our customers, are the ones suffering," said Dwight Keeto, program supervisor for Navajo Transit.
Keeto described going to Shiprock to help an NTS driver who had a mechanical failure.
While he made the trek from Fort Defiance to Shiprock, customers were on their cell phones calling relatives for rides and some even began to hitchhike, according to Keeto.
James confirmed this since she has had to hitchhike in the past due to bus problems.
Keeto was hired by Navajo Transit in January and oversees the day-to-day operations of the bus drivers and bus routes.
He claims Navajo Transit is run by two people, Harrison Smith, acting Department manager, and Florida Lynch, senior accountant — both of whom, according to Keeto, have not been doing their jobs properly.
"Those two have driven this program into the ground," said Keeto.
Neither Smith nor Lynch responded to repeated requests for comment over the last two months.
According to Keeto, Navajo Transit System has lost $1.6 million within the last 6 months — $1.3 million from the Arizona Department of Transportation for not knowing how to manage a budget and $380,000 from the New Mexico Department of Transportation for not meeting requests from the department.
NMDOT Public Information Officer Manon Arnett confirmed federal transit capital grant funding of $380,000 was suspended for fiscal 2017 due to non-compliance with government protocol.
"That's in a six month timeline. Imagine this has been going on for years," said Keeto.
He added this money could have been spent on bus maintenance and repairs.
Currently Navajo Transit has 45 vehicles, 35 of which are transit buses. Twenty-five of the 35 buses are not running.
James said when her transit bus broke down in Chinle, Navajo Transit sent two vans that quickly filled up and James was forced to hitchhike to a doctor's appointment in Gallup.
According to NMDOT, orders for capital from federal transit grant funding were supposed to be made by March 31, 2017.
At the time of the deadline, Navajo Transit's procurement order for vehicles was still in process and a federally compliant procurement was not submitted to NMDOT.
---