New gaming compact good news for Navajo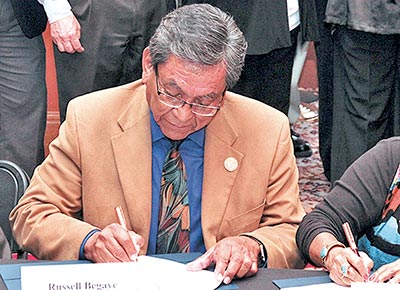 By Andres Guerra Luz
Cronkite News
Eight Arizona tribal leaders and Gov. Doug Ducey on Monday signed an agreement regarding a 14-year-old gaming compact.
The new agreement allows Native American nations in Arizona to renegotiate their current agreements to expand gaming on tribal lands within the state of Arizona while restricting gaming facility construction within the Phoenix metro area.
"It's time for us to modernize this compact to meet the changing needs of the state and to increase the opportunities for tribal gaming," Ducey said.
Russell Begaye, president of the Navajo Nation, said in his keynote speech that the new compact signing benefits everyone, not just Native Americans.
In an interview with Cronkite News after the compact signing, Begaye said Native American gaming revenue contributes around $100 million yearly to the state. The funds, he said, benefit Arizona teachers, trauma centers, and tourism.
---