National Champ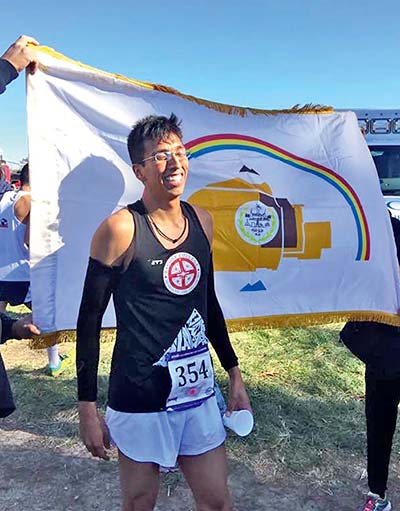 Bacone College's Navajo harrier Jackson Thomas wins NAIA meet
FORT DEFIANCE
Bacone College senior Jackson Thomas captured the individual NAIA National Cross-Country Championship this past Saturday in Elsah, Illinois.
Thomas, a Navajo from Naschitti, New Mexico, toured the hilly 8K course in 23:50, well ahead of the second place finisher.
This was Thomas' second National Championship. Last winter, Thomas garnered the NAIA Indoor Track & Field one-mile run.
Prior to the national meet, Thomas nailed down the Sooner Athletic Conference individual championship. Bacone College teammate Binahnii Curley, a Window Rock High School graduate, finished in second place.
"It's an amazing feeling," Thomas said about his National Championship. "I have been working out hard in preparation for the post season. All cross-country season long, I was preparing for the National Championship. I thank my coach (Clay Mayes) and my teammates."
Bacone College head coach Clay Mayes said Thomas' National Championship was "well-earned."
"I said this back when Jackson won the NAIA Indoor mile, too," Mayes said. "Jackson is one of those folks that knows to eat right, rest well, train hard, but smart about the process at hand. He sees a bigger picture."
Mayes pointed out that during the NAIA Indoor Track & Field Championship, Thomas beat all odds. Mayes said entering the race, Thomas was seeded seventh in the one-mile run and was considered an underdog."
Thomas said during the cross-country National Championship, his strategy was to remain in the top 10 for the majority of the race.
"I stayed in contact with the lead runners," he said. "I was in the top 10. With about one mile remaining in the race, I made a surge to take the lead. The guy that was leading made a surge to remain in the lead. So I remained behind the lead runner. With about 300 meters remaining in the race, I used my speed to take the lead. I sprinted to the finish line, finishing seven seconds ahead of the second place finisher."
---