'No place like it'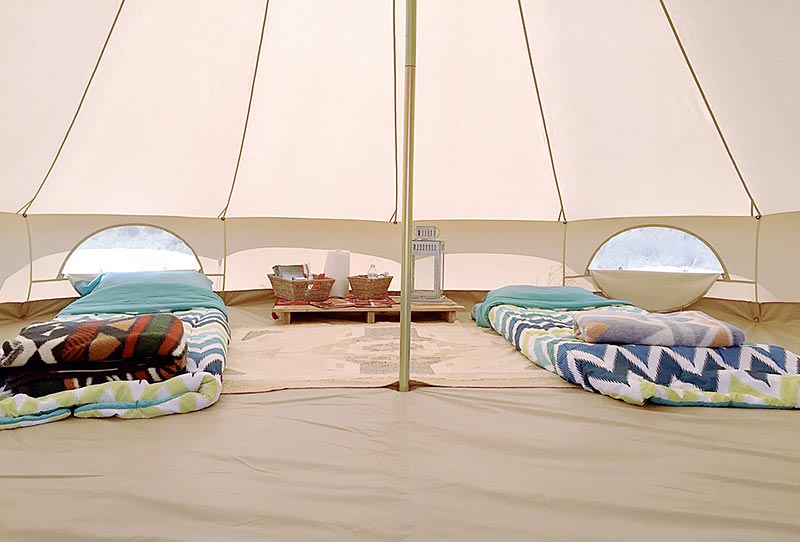 Bed & Breakfast offers visitors slice of Navajo life
COPPERMINE, Ariz.
Directoire-style bedside tables, English armchairs, floral wallpaper, and scones might come to mind when one thinks of bed-and-breakfasts, but what might be the only B&B on the Navajo Nation is "glamping" with traditional Diné amenities, homegrown food, and outstanding, 24-hour security.
Shash Diné Eco Retreat – the glamping B&B – is located 12 miles south of Page, just off U.S. Highway 89 at Baya Meehan's family homestead, a working ranch where Meehan and her husband Paul raise Anglo-Nubian goats, chickens, and Navajo-Churro sheep, among other animals and livestock such as Great Pyrenees, Maremma Sheepdogs, and horses.
The Meehans started their B&B here about three years ago after residing for a while in Bisbee, Ariz., where Baya was a receptionist at a naturopathic doctor's office and Paul co-owned a café.
"We had the idea … when we first came back here," said Baya, who Paul said is head proprietor of their B&B. "As we were researching it, it was filling a need that was obvious here."
The Meehans' B&B has been quite lucrative since creating their business idea.
"There is no place like this around here," Baya said. "We want to provide a respectful interaction with the Navajo culture. We're not putting on shows or anything, it's just a slice of life in Navajo land that we're offering here."
---