'The Natives have arrived': Clientele of Old Town Scottsdale pushes away Native-owned businesses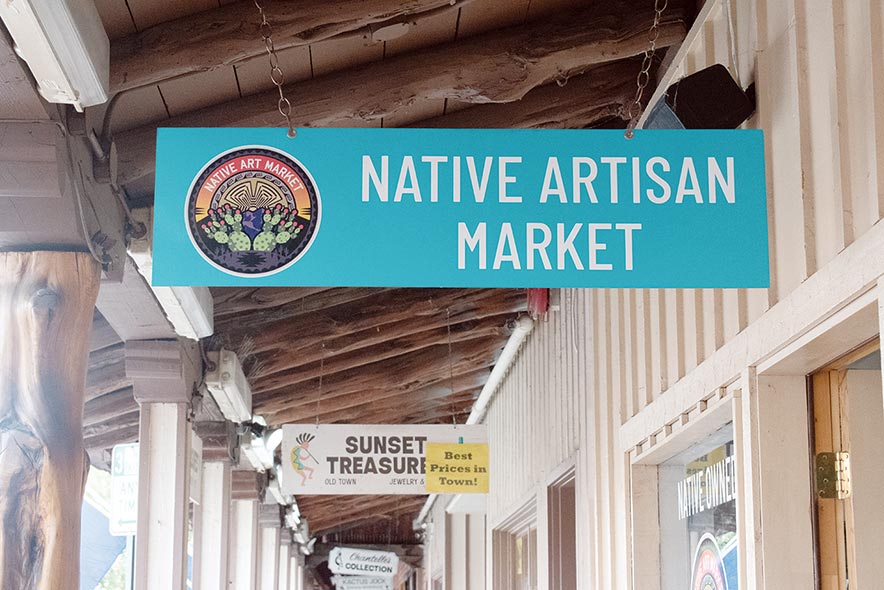 TEMPE, Ariz.
When walking around Old Town Scottsdale, one can be welcomed by the scene of the "old" Southwest arts and foods, but Native people are greeted with hostility.
Among the endless fine art, Southwest jewelry shops in Old Town is the town's first Native-owned and Native-produced art market, "Native Art Market."
Heather and Denise Tracy are the two Navajo women providing a space and platform for sustainable and appropriate Native crafts to be sold.
Denise said, "Getting a place here in Scottsdale is difficult. We had a hard time getting anybody to respond to us."
Gilbert Ortega owns most of the properties around Old Town; a majority is his. We have non-Native people also owning the other properties, so they kinda own the whole town in a sense."
Heather noticed two storefronts up for lease, leading her to tell her mom, Denise, that they should jump at that opportunity.
"I said, 'They're never going to lease to us,'" Heather said.
Heather made those phone calls anyway.
Denise said the store near them is not owned by Ortega, which made the journey to opening a little easier.
Despite the property not being owned by Ortega, it didn't stop the racism Native artists and owners faced.
On top of racism, there were also other difficulties the two owners faced in the opening.
When they contacted the mayor's daughter, Jamie White, they were told two spaces were available for lease.
At that moment, the idea of leasing both stores and taking the wall that separated the two empty stores lit brightly in their heads. With that thought and the endless possibilities both saw fit for the space, they grappled with financial stresses.
"We knew it was a huge financial gamble because we knew it was going to take every dime we had and had saved up for the place," the sisters said.
In response to the accusations of racism among Native people in Scottsdale, Denise said, "Yeah, it is true."
Not made by Natives
On Feb. 6, Gilbert Ortega Jr. revealed a similar idea of what the non-Native shop owners think of Native people.
For blocks, going down Scottsdale Road, countless stores like Gilbert Ortega Jr.'s sell Native art but not made by Native people.
Denise continued to talk about how the city of Scottsdale had taken action to investigate and charge shop owners who had been selling Native craft items saying they were made by Native people when they weren't.
The Indian Arts and Crafts Act of 1990 prevents the false advertising of Native American arts and crafts. Business owners can't sell Native American craft items saying they are Native made when Native people do not make them.
Denise then talked with Diné Bizaad owner Dawn Brown about expanding her business and store into Scottsdale to combat the lack of Native-made representation in arts and crafts.
"Just use a Bilagáana name and have them rent it for you," Denise said. "The city of Scottsdale loves that we brought something new to old town, after the whole big sting where a lot of these stores got caught for selling Native American arts and crafts as Native made when its actually imported, I think the city of Scottsdale was just so excited that we came in and brought that cultural experience coming from our perspective and not doing that whole Gilbert Ortega trader thing."
While the representation of authentic Native-made arts and crafts is important to Brown, so was safety and the message behind the store.
"I didn't want to be harassed, and our customers are different. If you drive further down the street, you have China-made items, and it was like, where we fit in this area?" Brown asked.
Brown's business, Inspired by Dine Bizaad, sparked when Brown saw none of the "cool" sayings in Navajo and to her, and now the over 18,000 followers on Instagram, having those phrases translated hold sacred meaning.
"I've been in that position where people will say, 'What does this say?' I don't like teaching our language (Dine Bizaad). I feel more comfortable doing that with our own people because our language is sacred to our people," Brown said.
Adding onto her reasons for not expanding into Scottsdale, Brown said the lack of education of Native people that non-Natives have when going into places like Old Town Scottsdale.
Brown said, "I also think our missions are different, my customers are different from her customers (Denise), and I don't want to educate non-Natives on the importance of Indigenous or Dine people."
Based on customers
Native-owned stores like Inspired By Dine Bizaad, Native Art Market, and others throughout the Phoenix Valley pick their location based on the customers and the audiences they want to reach or, like Brown, don't want to reach.
"That's why I don't feel comfortable being in that community," Brown said.
During Native Art Markets' grand opening, Denise shared what the celebration looked like, Natives filled the sidewalks and road, store owners walked out of their shops to see what was going on, and Native dancers danced as the sign for Native Art Market went up.
Denise said, "There were two Bilagáana guys standing next to each other, and they go, 'Ah s**t the Natives have arrived,' and I said, 'Thank you, yes we have.'"
Years have passed since Scottsdale shop owners created the picture of what Native art looks like and who it's made by, but stores in Scottsdale like Native Art Market and surrounding city stores like Inspired by Dine Bizaad stand rooted in their cultures creating a better and more precise picture of what really is Native-made art.
"We want to stay true to what we stand for, authentic and Native-made," Denise said.
---