'… what sovereignty is all about'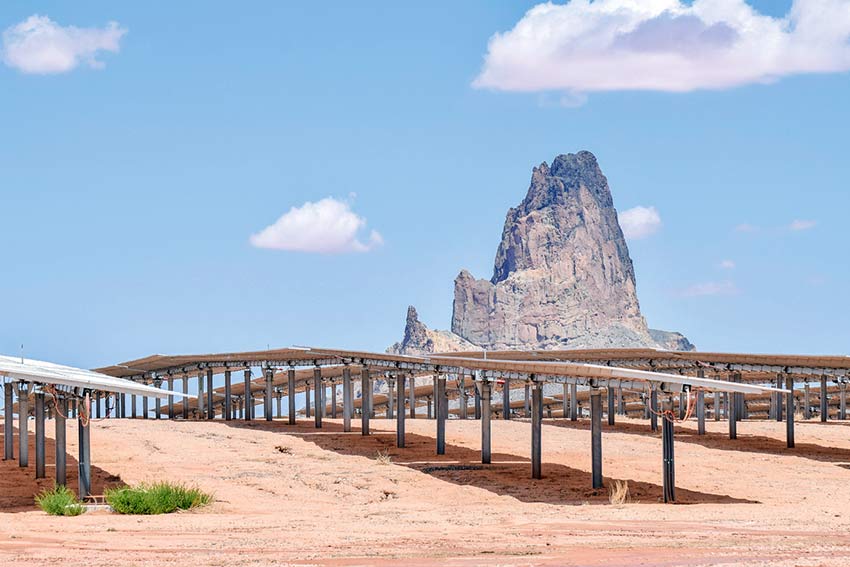 Second phase of solar plant underway

By Krista Allen
Special to the Times
KAYENTA
By late spring next year, Navajo Tribal Utility Authority's newest solar thermal plant will come online generating 78,000 megawatts, enough to power roughly 18,000 homes and businesses in the Navajo Nation.
The forthcoming Kayenta II – which is expected to come online May 1, 2019 – will be second solar thermal plant installation at NTUA's 27.3-megawatt Kayenta Solar Project located near Agathla Peak, just four and half miles north of here.
The first installation, Kayenta I, was constructed in 12 months and was completed in early May last year and came online the following month, marking the official opening of the Kayenta Solar Project that had a budget of more than $50 million.
Kayenta I is situated on 300 acres of land, on which the late Ella Todacheenie once grazed her livestock. Todacheenie died at the age of 87 in August 2015, just a year after she gave up her grazing land for the solar project that now consists of 119,301 sun-tracking panels.
Three hundred acres, though, is not large enough to install Kayenta II, said Walter W. Haase, general manager at NTUA. For that reason, Haase and his team asked the Todacheenie family for an additional 65 acres.
"We didn't need to build a new interconnect (the fundamental access point for a solar project to deliver energy to the electrical grid) because we were able to just upgrade the existing one very affordably," Haase explained.
A groundbreaking for Kayenta II took place on Aug. 23 at the solar project site alongside U.S. Route 163, where the tribe is expanding a clean energy grid, which was originally intended for Shonto, Arizona. The construction of a solar project there was canceled due to grazing land issues, according to Vice President Jonathan Nez.
---