Fowler becomes first Native American ASBA leader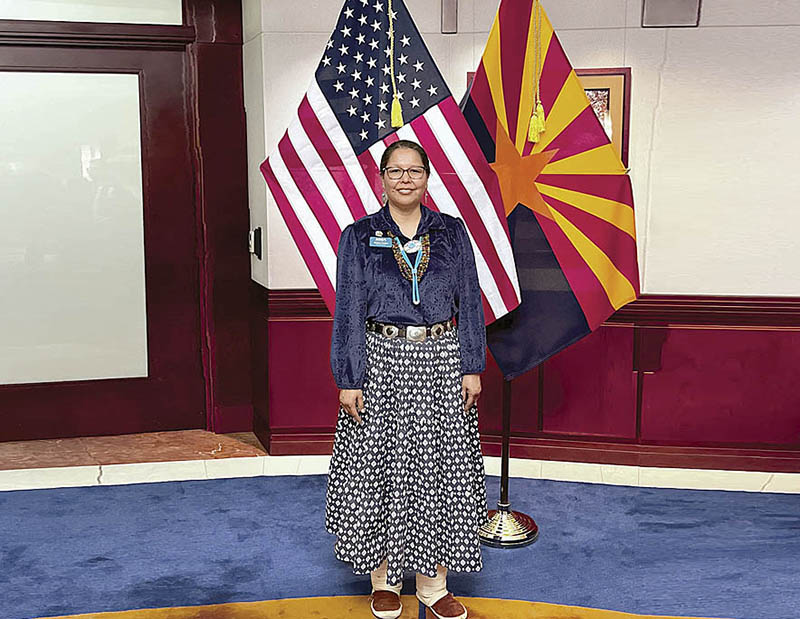 By Steven Law
Special to the Times
PAGE – Desiree Fowler, a Diné woman from Coppermine, Arizona, has been selected as president of the Arizona School Board Association board of directors. Fowler will be the first Indigenous person to serve in that position.
Fowler is also a Page Unified School District board member. She has been a PUSD board member for six years, including a term as president. Fowler will be formally inducted as ASBA president at the board's annual conference in December. Fowler plans to continue serving on PUSD's school board as well.
Fowler lived in Steamboat, Arizona, from birth to 6. She then moved to Coppermine, Arizona, on the western side of the Navajo Nation. She grew up in the traditional Navajo lifestyle raising sheep, pigs, cattle, a donkey, and a large cornfield.
Fowler said the values she learned growing up in the traditional Navajo way mean a lot to her, shaping how she views and interacts with the world.
"The way I was raised is very important to me," she said. "It taught me to be humble and to respect the Earth and the elements we live with."
Fowler is honored to accept her new position and takes it very seriously.
"This isn't just about me, but the kinship of our Navajo people, a celebration of our ancestors and the current generation, and the opening of greater prospects for future generations," she said.
Fowler is Tábąąhá and born for Kinłichíi'nii. Her maternal grandfather is Naakai Dine'é and her paternal grandfather is Tódích'íi'nii.
'Students first'
Fowler will strive to make a positive impact in her capacity as ASBA Board president.
"It's a great time to make awesome opportunities happen," she said. "One of my biggest priorities is to bring recognition to schools outside of Maricopa County. Arizona is filled with small schools that need to be recognized for the great things they're doing. My platform has always been the small schools and the rural schools. I'd like to bring more attention to schools in northern Arizona."
During the six years she has served on PUSD's school board, Fowler has worked tirelessly to provide greater inclusivity for PUSD's Native population, with great results. During the 2022-23 school year, Fowler worked closely with the JOM, the Indian Education Committee, and PUSD's Indian Education Office to pave the way for Page High School's Navajo Language and UNITY Club members to visit Washington, D.C., during the NAFIS Conference.
There, students had a chance to meet with Arizona senators and representatives and witness the federal government in action.
Fowler also facilitated a group of PUSD's Navajo students to visit Window Rock for the Navajo Nation's Winter Session, where they met with Council delegates, other Navajo officials, and government leaders.
On another occasion, Fowler – along with PUSD's Indian Education Office – arranged for PUSD students to travel to Phoenix to attend a state legislative meeting. All these visits aimed to introduce PUSD students to the different ways they can be involved and advocate for themselves.
"She puts students first," said Carlos Begay, PUSD's Indian Education Office coordinator. "Her advocacy is strong and in the interest of all students, but especially for the underrepresented students."
Last week, PUSD held its annual Cultural Acknowledgement Day for the district's new teachers. The event spans two days and occurs in different locations throughout the Navajo Nation. PUSD's student population is 80% Navajo.
Cultural immersion
The Cultural Acknowledgment Day aims to introduce incoming teachers to traditional Navajo ways of life. It's something that PUSD used to do long ago, but the practice slipped away. During her first years on the PUSD's school board, Fowler was instrumental in bringing it back.
As part of Fowler's initiative to bring more attention to northern Arizona and its rural schools, Fowler invited the ASBA's executive director, Devin Del Palacio, to join her at PUSD's Cultural Acknowledgement Day, held in Inscription House, Arizona. Del Palacio readily accepted the invitation. It was his first time visiting the Navajo Nation.
"It was amazing to experience Navajo culture, learning, and understanding with the teachers of Page Unified School District," Del Palacio said. "This is really about getting out and connecting with our native community to better empower our board members in ways we can help serve that community. This is a huge first step, and I know Ms. Fowler is committed to serving all of Arizona's indigenous communities.
"ASBA is 100 percent honored and thrilled to have our first indigenous board president," Del Palacio said.
---