Monument Valley student selected for US Senate Youth Program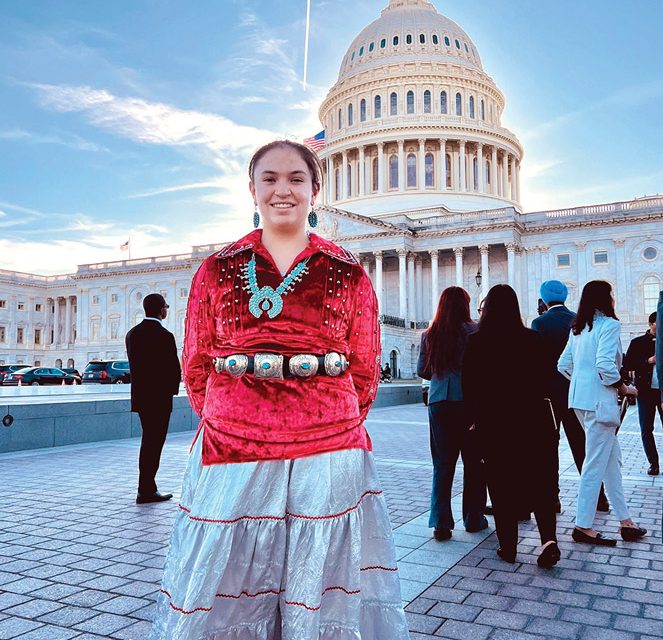 WINDOW ROCK 
Emma Katherine Curtright, 17, a junior at Monument Valley High School, was one of two high school students selected to represent the state of Arizona, along with Sens. Kyrsten Sinema and Mark Kelly, at the 61st Annual United States Senate Youth Program Conference in Wááshindoon earlier this month.
The 104-student delegates were presented with a $10,000 undergraduate college scholarship to the college or university of their choice to continue their education in government and history.
The mission of the United States Senate Youth Program is to provide a yearly opportunity for selected students to gain an in-depth view of the Senate and the federal government overall, as well as a deeper understanding of the interrelationship of the legislative, judicial and executive branches for those considering a future of public service on the local, state or national level.
Curtright is Bilagáana and born for Ta'neeszahnii. Her maternal grandfather is Bilagáana, and her paternal grandfather is Tł'ízíłání.
She serves as her class treasurer. She also serves on her school's student council and assists with the planning of school events.
Her passion stems from uplifting her peers so they can thrive, especially considering the turbulent times because of the pandemic.
Pursuing a medical career
Curtright's participation in her community ranges from the Air Force Junior Reserve Officers' Training Corps. to the National Honor Society and assisting with music at her church.
With the assistance of her JROTC instructors, Sgt. Jon Sombrero and Col. Caroline Evernham earned an eight-week scholarship to attend Embry-Riddle Aeronautical University in Prescott this summer. She was among the 200 selected to participate in the flight school academy.
After she receives her pilot license, she intends to pursue medical flights and transports from Navajo to outlying hospitals or treatment centers.
Curtright is dedicated to her local community and hopes to continue a life of public service in the Navajo Nation.
The USSYP hosts an intensive weeklong educational experience referred to as Washington Week.
During the week, the student delegates meet and learn from Washington's highest-level elected and appointed officials.
The delegates attend briefings and meetings with senators, the president, a justice of the Supreme Court, cabinet members, federal agency leaders, and senior national media members.
During her week in Washington, D.C., Curtright attended meetings and lectures with some of the nation's top leaders. Speakers included U.S. Supreme Court Justice Sonia Sotomayor, U.S. Secretary of Education Miguel Cardona, author and producer Soledad O'Brien, U.S. Surgeon General Vivek Murthy, Mark A. Milley, chairman of the Joint Chiefs of Staff, and many others.
She visited George Washington's Mount Vernon, John F. Kennedy Center for the Performing Arts, the U.S. Capitol, the Library of Congress, the U.S. Supreme Court, the Department of Justice, the Pentagon, the White House, Arlington Cemetery, the National Archives, and other memorials.
"This is all still setting in," Curtright said. "I was surprised because, being a kid from Navajo Nation, I truly thought it would be a long shot, but I know I worked hard, and I am just so grateful for this experience to help me learn more so I can help communities on Navajo."
One-on-one interaction
This in-depth exposure to leadership at the highest levels fuels and sustains the delegates' commitment to making a difference in their country, communities, and schools.
The program is merit-based and highly competitive. The chosen delegates are consistent of the highest caliber in the nation ranking academically in the top 1% of their states among high school juniors and seniors.
The selection process begins when public and private high school teachers and principals nominate qualified students starting in early fall. To qualify, students must hold or have held student body office or another elected or appointed position in their communities and show academic interest and aptitude in government, history, and politics.
Among the many distinguished alums are Sen. Susan Collins, the first alumnus to be elected U.S. senator; Pete Buttigieg, the Secretary of Transportation and former mayor of South Bend, Indiana; and the first alumnus to be appointed as a cabinet secretary.
Angela Curtright, Emma's mother, says that she is happy that her daughter was able to experience this honored event adding that it was an excellent opportunity for her to also meet and network with students from across the country who share the same ideals.
"We are really proud of her," Angela said. "Emma is such a hard worker and genuinely cares so much for her classmates and community.
"Emma and I hope this might inspire other students on the Navajo Nation to apply for this incredible program," she added.
Emma Curtright's passion is simply helping her people. She involves herself in various community efforts in her school and community and plans to continue these efforts through her education and accomplishments.
"I don't want to feel like a sitting duck with so much going wrong in the world. I need to help my communities because people need help," she said.
For the next five years, she wants to be in a position in life to help her communities throughout the Navajo Nation. She says she wants to go out in the real world, earn an education and bring it back to Diné Bikéyah to help her people.
She says she was intimidated at first going to D.C. She says it was a little scary, but she was able to connect with her student peers.
Curtright also dressed in her traditional wear, which she says generated a lot of questions from her peers and officials in Wááshindoon.
"They asked a lot of questions. They really wanted to learn more about Navajo, about our culture and our needs," she said. "They gave me and Navajo their support which, to me, just proves they want to make a difference just like I do."
---