Four skateboard artists become 'Forever' stamped in USPS history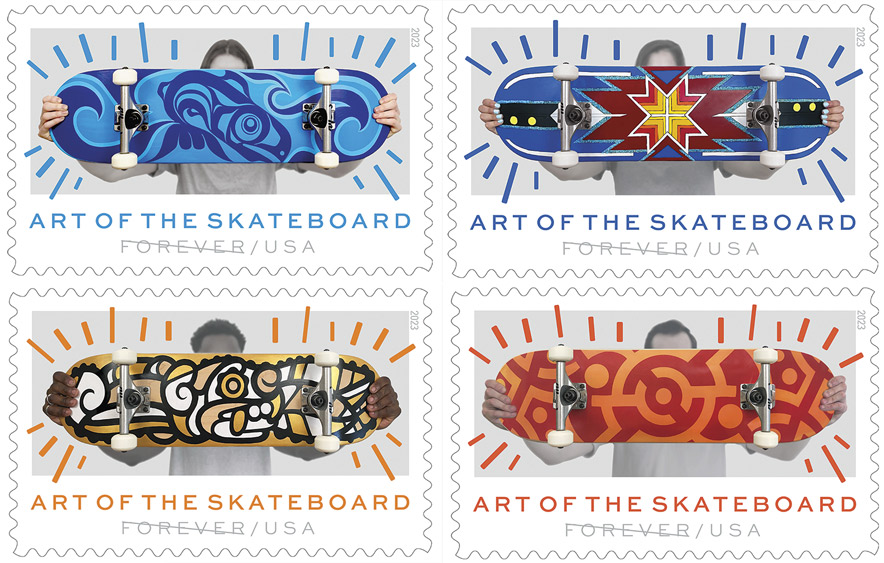 By Chael Moore
Special to the Times
PHOENIX 
For these four artists, designing skateboards were not uncharted territory, and the U.S. Postal Service recognized that too.
Under the desert sun March 24, the U.S. Postal Service unveiled its latest Forever stamps collection, which celebrates the Art of the Skateboard at a dedication ceremony in Phoenix.
It features local Diné skateboarder and artist Di'Orr Greenwood, artist and entrepreneur Crystal Worl, multimedia artist Federico Frum (also known as MasPaz), and business owner and artist William James Taylor Jr. (also known as Core222).
The first day of issue for the stamps also kicked off the annual Phoenix AM contest, an amateur skateboarding competition hosted by Cowtown Skateboards at the Desert West Skate Park and was free and open to the public.
Choosing the artists

Subjects and themes for Forever stamps are picked by the Citizen Stamp Advisory Committee, comprising 10-12 people across the United States who review submissions sent in from the public.
Once topics are finalized, the committee sends its recommendations to the postal service, and an art director is assigned to seek out the artist to design the artwork. This collaboration usually comes with a timeline of three or more years to achieve.
The planning began in 2019, and each artist was contacted by Antonio Alcalá, the lead art director for this project and owner of his Virginia-based studio, Studio A. In the early stages, Alcalá said he had initially contacted Frum because of his experience teaching skateboard clinics, painting skateboards, and his mural art throughout the D.C. area.
They had created initial sample boards and experimented with ways to photograph them. Following the mockups and photos, Alcalá and the USPS quickly realized that one board was not enough to represent the variety and diversity of skateboard art and culture.
He then chose the three remaining artists based on their artistic style, community involvement, and cultural background. Alcalá said this was his first time working with four artists instead of one on a single stamp project.
"This was a fairly unusual circumstance to have four different artists working on four different stamps," Alcalá said in an interview with the Navajo Times. "It made it a bit more of a challenge to make sure every part fit together well, but that was also the really exciting part about this, just the variety, the diversity of the different artists I got to work with, learning their stories and being able to bring their artwork to the public. I think it's very exciting."
Meet the artists

With four stamps, each is individually designed by one self-taught artist, muralist, and two Indigenous women. All of whom have a personal relationship with skateboarding and its expanding culture.
Di'Orr Greenwood is Tódích'íi'nii and born for Ma'iideeshgiizhnii. Her maternal grandfather is Áshįįhí, and her paternal grandfather is Bilagáana. She was born and raised in Sawmill, Arizona, and currently lives in California where she works in consulting and skateboard artistry and is a skateboarding coach and instructor.
She is known for and specializes in pyrography, the art of decorating wood with a wood burner and creating designs specifically on flutes and her decks, a skill she started at 11 years old.
According to Greenwood, she made her entire skateboard from scratch. She glued seven layers of wood together and placed it under a skateboard press for 24 hours, then cured it for another 48 hours. The piece was then traced and cut into a skateboard, designed, and painted, with wheels and trucks applied later.
Her design represents elements of Diné culture with a turquoise-inlaid skateboard that depicts eagle feathers and colors that remind you of the rising or setting sun. She thought about the things she trusted, such as the North Star, eagle feathers, the land, and her family, and often dreamt of her design as she designed it, said Greenwood.
When assembling her deck, Greenwood couldn't help but think about her late great-grandmother and how she'd look at a stamp like teenagers stare at their phones. According to Greenwood, her grandmother would place immense trust in stamps as it was her way of communicating with the world, and she wishes she could see it today.
"I really took the time to only put my best effort, my best healing, my best prayers, and my best everything. From making the board to designing to wood burning it to detailing it, and adorning it, it's some of the best work I've done," Greenwood said.
Crystal Worl is Tlingit from the Raven Sockeye Clan, Athabascan, Filipino, and lives in Juneau, Alaska. From drawing on walls at a young age, Worl now specializes in mixed media art ranging from printmaking, painting, graphic design, murals, and more. She is the co-owner of Trickster Company, an online graphic design and art gift shop she runs with her brother, Rico, who designed a Forever stamp in 2021.
Coming from a creative family who hunts and fish in Alaska, she is heavily influenced by the sea life. Worl incorporated this into her stamp design, which depicts a sockeye salmon, the clan she comes from, with a blue and indigo form line design she achieved with a combination of hand painting and graphic design.
"To me, that salmon is just this really powerful symbol of life, abundance, and looking to the future, I hope future generations can have access to that salmon too," Worl said.
Worl expressed feeling excited that this opportunity has the potential to show her art and open the conversation for other artists to do the same.
"The fact that USPS has gotten their attention towards looking at other Northwest Coast artists, Indigenous artists, and representing that, it makes me feel excited to one, have this opportunity to do this stamp, but also look into the future of who will be the next artist," Worl said. "I hope this is a trend they continue to do, working with a variety of artists and Indigenous artists from all over the states."
Federico Frum is a Colombian muralist and multimedia artist from Washington, D.C., and has been painting under his name "MasPaz," Spanish for "more peace," for over 10 years. He also works to bring skateboard workshops and skate parks to his surrounding community.
When designing, Frum asked himself who MasPaz was, and he let that guide him to what he would paint onto his deck. Known for his distinctive, bold linework and style inspired by his Colombian roots, he chose a jaguar. Jaguars in Colombian culture are sacred animals known for their mystical and powerful characteristics and their direct ties to the Amazon rainforest, according to Frum.
"As we know, the Amazon is being destroyed, and so the sacred creature that means so much and is so powerful is also so fragile. So, I felt like it represented the fragility of the world also," Frum said.
A recurring theme in his work focuses on preserving the Earth and being conscious of the living beings on the planet. By choosing the jaguar, he was able to highlight its cultural significance and power, bring awareness to its fragility in the Amazon and be a call to action on preservation.
Frum shared that the project taught him patience and has been one of the most significant projects he's worked on. He expressed adoration for the USPS taking the time to highlight Black and Brown folk.
William James Taylor Jr., also known as Core222, is a self-taught Virginia artist specializing in psychedelic-inspired art using digital art and graphic design. He also has his own business, Core222, and a line of skateboards with Board Pusher.
Taylor expressed his appreciation to be one of the artists selected to pursue a project this significant and how tribal and all the artists fused historical and spiritual elements. Taylor described his usual art style as a "psychedelic kitchen sink." Still, when creating his stamp and board design, he approached it with a minimalistic, modern approach because of the size he was working with, a technique he doesn't normally do.
With complex, psychedelic shapes and designs commonly seen in his art, Taylor found that the project brought him out of his comfort zone as an artist. Taylor's deck features a vibrant and energetic red and orange abstract design, drawing inspiration from graceful curves in various architecture and movies such as Tron.
"My mind is just totally blown because being just this self-taught guy whose kind of made my own way, to having something like this come to me is like winning the lottery or something," Taylor said.
Growing up in the 80s with friends who were skateboarders and who'd frequently be shut down by the city for skating in their neighborhood half pipes, Taylor said he likes that society is embracing the culture a lot more.
According to Taylor, participation in this project proved that skateboarding culture is much more than the typical "punk" and "bad teen" narratives, but also that the diversity of the skateboarding scene is much vaster than society realizes.
Let there be stamps

On the day of the dedication ceremony, the stamps were presented by William Zollars, one of the USPS Board of Governors.
"The event marked the official release of the stamps, which feature artistic skateboard decks with bold, vibrant designs that capture skateboarding's excitement, diversity, and rebellious attitude," according to a USPS press release.
Artists Greenwood, Worl, and Frum attended the unveiling, greeting supporters and signing copies of their stamps. Taylor could not participate but was present in spirit and sent his kindest regards.
According to Alcalá, the artist's physical skateboards will soon be exhibited at the Smithsonian's National Postal Museum in the upcoming months, a huge accomplishment for any artist.
"Once the artists have completed them and we've done the photography, they get returned to the Postal Service where they hold on to them for a short period until the stamp run is completed, and then they transfer that to the Smithsonian's National Postal Museum and the boards go into what's called the Postmaster General's Collection," Alcalá said.
Those who wish to purchase Forever stamps can find them on the U.S. Postal Service website. With 18 million copies in production and nationwide distribution, panes of 20, which includes each of the four designs, will be offered. Stickers and postcards are also available for purchase.
---