Guest Column: Making Our Communities Whole In Wake of Gold King Mine Spill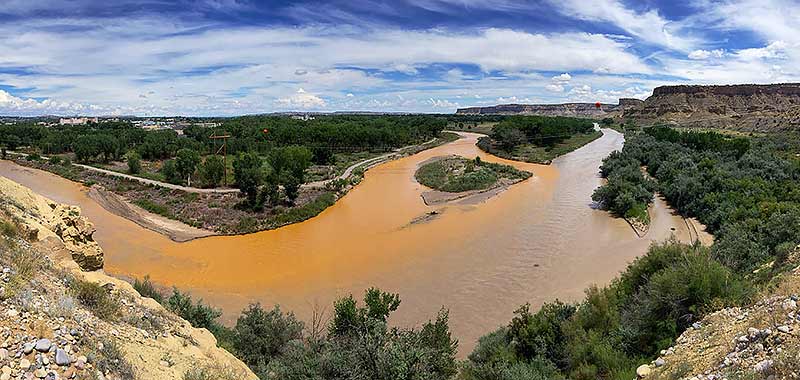 By Ben Ray Lujan
Like so many in our communities, I was deeply concerned to hear through news reports of the devastating spill of toxic wastewater into the Animas River from years of mining at the Gold King Mine. As more information was made available in the days after and the scope of the spill became evident, I was concerned that this would have a lasting effect on the natural and traditional environment along the Animas and San Juan Rivers.
In response to the spill, I traveled to San Juan County to participate in the first of a series of community meetings on the spill. When the plume of contaminants reached Farmington and turned the Animas River yellow, I was there to hear from the community members about how this spill would devastate drinking water, farming, and livestock along the river.
I met with EPA Administrator Gina McCarthy in Farmington and Durango to make it clear that I would hold EPA accountable and see that it fulfills its responsibility to make state, tribal, and local governments as well as businesses, farmers, and individuals whole.
To that end, I have introduced legislation in the House calling for swift compensation for losses incurred as a result of the Gold King Mine spill and long-term water quality monitoring that will provide communities with the data needed to protect the health of those who rely on this water. I worked to craft this legislation with senators Tom Udall and Martin Heinrich, who have introduced it in the Senate. By establishing an Office of Gold King Mine Spill Claims within the EPA, we are working to see that compensation occurs swiftly for farmers and ranchers along these rivers, and that the liability concerns that were brought to my attention by the Navajo Nation are addressed.
Lastly, our legislation takes steps to prevent future similar disasters by requiring relevant agencies to identify the most dangerous abandoned mines in the West and establish a priority plan for cleanup. Prior to any cleanup or remediation in an abandoned mine, agencies will be required to alert nearby communities and develop a contingency plan in event of a blowout. Clearly in the case of the Gold King Mine, a sufficient plan was not followed, a point that I raised with the EPA during an Energy and Commerce Committee hearing.
As we discuss efforts to prevent future spills and improve efforts to mitigate disasters that may occur, I have focused on how we can better improve communication and ensure that states, tribes, local governments, and individuals receive timely information, unlike what we saw in New Mexico and the Navajo Nation immediately after the Gold King Mine spill. I joined with Navajo Nation President Russell Begaye in the House Natural Resources Committee hearing to express my concerns regarding EPA's failure to notify communities downstream. In multiple committee hearings and in talks with Administrator McCarthy, I have discussed a notification system that builds on the infrastructure backbone of the Amber Alert system and weather alerts. Using systems that are already in place can provide timely information to nearby communities that will enable them to plan and prepare.
As your Congressman, I will always work with the Navajo leadership, as well as the local chapter officers and members to address the challenges facing the Navajo Nation. The Gold King Mine spill has taken a toll on the people of the Navajo Nation, Farmington, and surrounding communities, but I know that working together, we can hold the EPA accountable for the damage that has been done to all those who rely on the Animas River for their way of life, and see that they are made whole.
(Editor's note: Ben Ray Lujan is a U.S. Congressman from New Mexico)
---