Guest Column: Take the time to teach children history, culture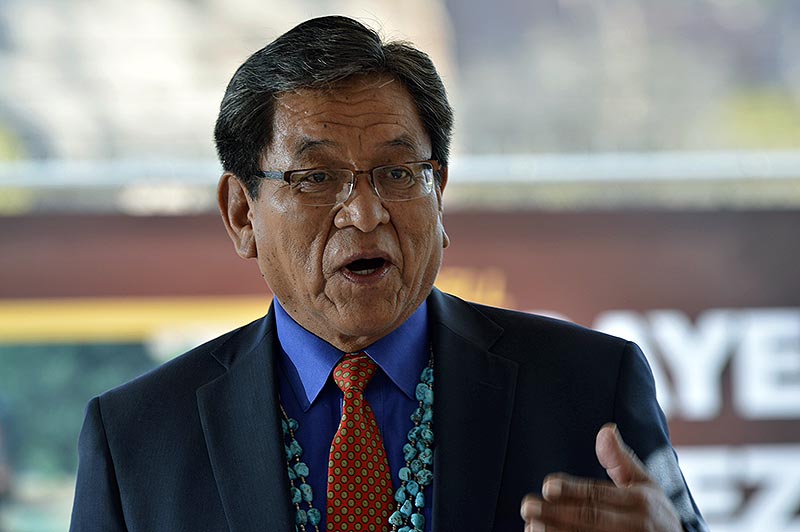 By Russell Begaye
Navajo Nation President Elect
Yá'át'ééh!
Each year, the Navajo Nation observes a tribal holiday called Navajo Sovereignty Day, which is set aside to occur on the fourth Monday of April. This day was established to celebrate a historic legal case, Kerr-McKee Corp. vs. Navajo Tribe, wherein the United States Supreme Court affirmed the Navajo Tribe's ability to tax without the approval from the U.S. government. It was the first time the U.S. Supreme Court recognized the Navajo Nation as a separate entity within the borders of the United States.
As Diné, our ancestors lived as sovereign people prior to colonization. They were self-sufficient, living in harmony with their surroundings, true caretakers of the environment. Dinétah was beautiful, valuable, and as others came they wanted it. As recorded in history, the Diné were forced to relocate 300 miles east of our ancestors' homelands. By 1865, many of our people were living as captives of the U.S. government. Diné had no rights, no recognized ownership of property, and no freedom.
With the Treaty of 1968, the United States finally allowed the Diné to live on the Navajo Reservation. Since the "Long Walk", the Navajo Nation has gone though many changes in establishing a government. In the 1980s, qualified Navajo attorneys took the responsibility to represent the Navajo government in asserting its rights of governance. When the Navajo Tribe imposed taxes, a non-Navajo company immediately challenged them. Tribal lawyers argued that the ability to tax was rightfully ours, because we are a sovereign nation. The U.S. Supreme Court agreed.
It was a significant and historic victory, resulting not only in establishing a new revenue stream, but federal recognition of the Navajo Nation's right to live and govern our homelands. Since 1985, the Navajo Nation has asserted its sovereignty in other significant court cases, including the recent $554 million settlement paid by the U.S. government to the Navajo Nation.
I encourage families to take time on this day to teach our children about our history, our culture, our hopes, and dreams for their continued success, and instilling in our children – Ahééshdindzin (being appreciative and thankful). I thank all businesses, educational institutions, government offices, and everyone who joins us in observing this special Navajo Nation Holiday. Ahe'hee!
---