Images of water: DigDeep's water project inspires youth to create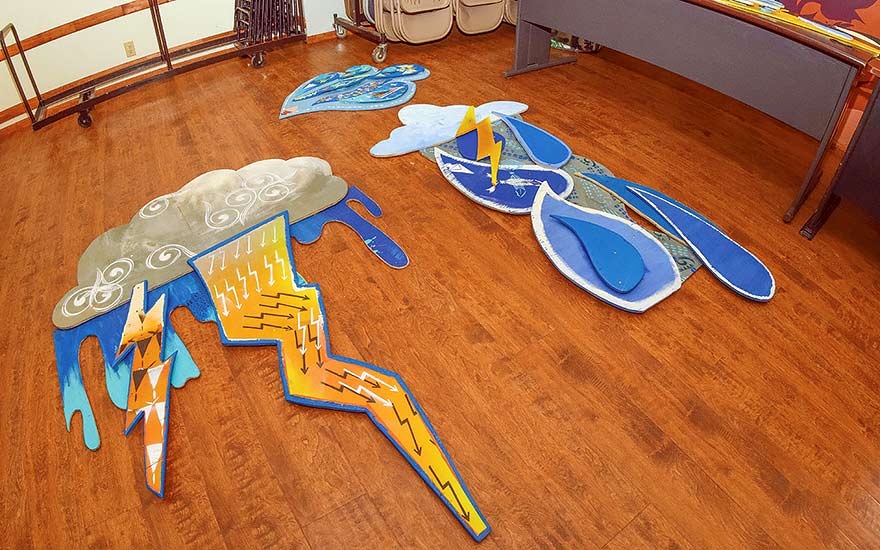 By Krista Allen
Special to the Times
NAATSIS'ÁÁN-RAINBOW CITY, Utah
Rian Aumentado, 16, was looking for a fun summer job but instead found a meaningful one that involves helping his elders under Naatsis'áán Chapter's summer youth program.
"It's been pretty great working with people like Emma (Robbins, the director for DigDeep's Navajo Water Project) who's showing us what the water project is about," said Aumentado, a student at Richfield High in Richfield, Utah.
"And Kate (DeCiccio, an Oakland, California-based artist) too – helping us with art, which I'm very good at," he said. "It's natural for me to do."
In landscape paintings, artists say, water is often a main focus or at least a featured factor – especially in Diné paintings. There is something about water that draws artists to it, perhaps because it has a sort of power.
That's what Aumentado, along with a group of others around his age, did during a weeklong art project that depicted water in early June.
"Water is sacred," Aumentado said, in an interview, as he mentioned the Gold King Mine wastewater spill as a reminder that some people still worry every day about having water to survive, "and water is life around this area, as well as everywhere else too. Water's about the earth, basically. Some of us take it for granted."
Aumentado grew up here in a household with running water and electricity. And being able to focus his latest artwork on water's refreshing, purifying, and revivifying essence is inspiring, said the young artist.
"I don't think I can survive without water for a week," Aumentado said. "I'd be saying, 'It's hard.' But I'm pretty sure the people living (without basic amenities) here are used to it. We need to get (families living in Dzil Nineez and Séíyah Niigháh) water. They deserve it."
As for water in art, Aumentado said, it's how an artist sees it.
"It's based on creativity and how we see water," he said. "Art can be anything."
This art project was an offshoot of International Water, Sanitation and Hygiene Foundation's and DigDeep's community plumbing challenge, said DeCiccio.
The art project was a way to get the summer youth thinking about the role of water and the population's relationship with water, and the way people use, care for and honor water, among a list of others.
DeCiccio said she – along with Lorena Atene, community service coordinator at Naatsis'áán Chapter; Ruby Gibson, executive director of Freedom Lodge in Rapid City, South Dakota; and Miguel Espinoza, a professional flamenco guitarist from Denver – talked with the youth about water and its elements, shapes and where it can be found.
"And then the kids all spent time drawing forms … that captured the essence of water," DeCiccio explained. "Some of them were twinkly, … had movement. Some of them were rippling, and showed the violence of water."
Others showed the way water exists in weather and in clouds and others talked about rain and tears.
"Then from their drawings, we made stencils and then we played around making patterns, talked about patterns, symmetry and nature, and how those patterns are really soothing for us," DeCiccio continued.
"And then we thought about – OK, 'So how can we then use larger shapes that can give these ideas dimensions, put them all together,'" she said. "So each kid made between one to three shapes and then (they) collaborated in small groups to put texture and pattern on those shapes."
On another day, the groups laid out their shapes on the floor and DeCiccio said she saw storm clouds, snow clouds, rain clouds, flowy rivers, big and little rain drops, and lightning – just like the cycle of water.
"So they really worked together to create organic teams based on the shapes they had and think about how they could complement each other," DeCiccio explained. "We worked like how you would create a painting."
DeCiccio said the finished pieces – the sculptures – have dimension and have shims in between them instead of being stacked on top of one another.
"(They) really pop and you can feel the movement and energy that's created by the texture and shapes," DeCiccio said. "The kids did an amazing job. I don't have enough good things to say about their willingness to jump in and try new things and work as a group."
DeCiccio said this her second invitation here where she's worked on an earlier project with muralist Chip Thomas.
"The opportunity to spend time in a place where many generations of people have made the decision to care for the land and not industrializing it and let it live naturally – that's a huge gift for me," she said.
"And to think, with the youth who live in this environment about the way water serves them and their lives, it's really meaningful for us (visitors) to think about how we can do a better job partnering with each other and with the earth to honor water," she said.
Gibson added that the art project also included some healing work and guitar lessons.
"It was kind of multifaceted," Gibson said.
Robbins said the project group initially wanted to paint a storage container where all the plumbing supplies are housed, but because it was located across a canyon and very far for the youth to travel, the group had to make other plans to stay here and come up with another art project, thus becoming a project around aquatic imagery on wood.
"I know they want to keep some in the chapter and in the areas we're going to be working (on wells and inside the homes of families who received water)," Robbins explained. "Some of it will travel to Navajo Technical University and be placed there with a storage container that was purchased."
Robbins added, "I'm just really happy to be working on this project with such amazing people. It's like really good to see us Navajos being so resilient. Also, just coming together to make everyone's lives better."
---