Letters: Rushed election ordered by Supreme Court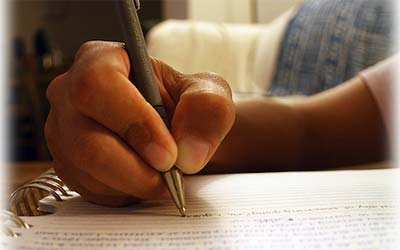 It's beyond disbelief that our Navajo Supreme Court decides to quash the highest authority of the Navajo law that is the based law fulfilled by the Navajo Nation Council.
Its power of being "the governing body of the Navajo Nation" can only be altered by its body.
But yet it is quietly still in place by our fundamental law of the land.
It's like having supposedly three-branch government mocking each other's powers without legality of soliciting vote from the Navajo people who are the basic electorate body.
This was heightened because our present governance doesn't have clear division of checks and balances, which our Navajo people are denied with no asserted referendum vote.
Now, the power of essential authority is being battered by our judicial branch.
A single party verdict is called where it yields elected leaders into further chaos regarding its power of consent.
It's happening because a couple of unhappy candidates who were removed from privilege to get on the general ballot by proper primary election.
In that fruitless position, they are not following laws of the Navajo Nation to express their dispute justifiably.
They neither submitted their dispute right away before or after the primary election.
Election law mandates direct action within 10 days grace period for disputes was disregarded.
After their factual action it was compounded by Navajo Supreme Court taking up the matter for further debate in challenging tribal election laws.
The Court seems to be instituting change in this law of our nation by allowing continued distrust.
It puts our Navajo voters at awe in what is taking place on handling it irresponsibly.
An excellent decision was legislated by our Navajo Nation Council to further secure the improper handling of Diné's vote of disenfranchisement.
It was a sound exercise in legislating a fair and impartial primary and general election to settle this chaotic situation that was created without legal grounds.
It was so to allow all Diné voters to have their chance in being entitled respect for their previous primary votes.
This is to provide Navajo electorate to participate in the importance of their election process.
Thus, an appropriate balance must be held to allow all electorate to cast their ballots when proper election is called.
On account of this displeasure of conflict there are voices being expressed to either not cast votes in this rushed election ordered by our Supreme Court.
Or, some electorates are planning to stay home because of their dissatisfaction in supporting distrusted and no talented candidates.
Contrarily, it seems assured choice has been nullified and voided by our Supreme Court with denial decree in having a fair primary and general electoral process.
It certainly will disenfranchise voters in electing true leaders within a free voting opportunity.
It's time to legitimately pass extended directive to further clarify to avoid putting in place drifting dilemma in disrespecting our Navajo laws.
Sadly, it was courted through misguided advisement and then evolved with faulty decisions.
But for our Diné voters it is in their best interest to not be intimidated by only few politicos' in commotion.
A resolution is needed for proper, fair and reasonable election for Diné in electing strong leaders who are well prepared to lead and suitably are aware of our voters' rights.
That focus is to choose our leaders by casting legally based election through proper respect for their civil rights as Diné.
Adolph June Jr.
Kaibeto, Ariz.
Allow a write-in vote
The people of the Navajo Nation unite to stand against the travesties brought upon us by individuals who have violated our rights not only as Navajo, but as Americans.
When our ancestors trekked to and from Fort Sumner on the Long Walk they dreamt of a day when their future generations would be united and live in peace.
This has fallen prey to the actions taken by the corrupt and greedy to keep our people in chaos.
As a young individual living during these harsh times I fear our ancestors are being made a mockery of; the prayers and songs sung on the return back to Dinetah are forgotten and ignored much like the votes many voters were cheated out of.
These actions taken by our leaders then was a sacrifice that was made to instill that the people of this nation be able to learn and return and lead their people, yet Herb Yazzie, Joe Shirley, Russell Begaye, Dale E.
Tsosie and Mr. Whitethorne have taken it amongst themselves to show the youth that no matter how hard you work to better yourself it will not pay off in the end.
The youth of the Navajo Nation have stood idly by as these individuals continued to ignore the voices of these disenfranchised voters.
I have to say with a heavy heart my ancestors are weeping as these actions are continuing as these men claim to have the best interest of the people at heart, but no resolve has been given.
I believe to ease the tension among the people to restore Hozho is to allow the option of a write-in vote on the upcoming election, to resolve this issue once and for all.
I pray the answers are up ahead, because I know where my people have been.
There's a road we've been traveling, lost so many along the way, but the riches will be plenty, worth the price they had to pay.
There's a dream of the future, there's a struggle we have yet to win.
And there's pride in our hearts, because we know where were going, because we all know where we've been.
Our ancestors did not endure the harsh trek those years ago for us to all turn on each other, there is only one solution – allow the write-in option.
Herb Yazzie needs to step down and let the people choose their leader.
He can't create "laws" that only work for himself and corrupted individuals, because even though justice may be blind it is righteous and worth the fight to stand up and make sure it is given to every individual looking for it.
Thank you all for your time.
JayRoss Slivers
Lukachukai, Ariz.
Put dental therapists legislation to a positive vote
There have been serious dental health problems among American Indians throughout United States and in Alaska for quite sometime.
The Indian Health Service does not have an adequate dental provider and shortage is prevalent.
This shortage has been an ongoing situation for quite sometime unless this dental therapist legislation is put to a positive vote.
I am voicing my opinion because I am a dental therapist and have worked in the Indian Health Service.
We have gone through dental curriculums and lab work before becoming a dental therapist.
Dental therapists do not extract teeth or give anesthesia.
You work under the dentist supervision at all times.
We have many talented individuals out there to provide services for the needs of the American Indians.
This is the field that entices one to further their education in dentistry, dental hygienist, dental lab technician, or other medical field.
The American Dental Association and New Mexico Dental Association may have strong opposition to this legislation, but do they offer viable solutions to help the Indian populations?
This is where the Navajo Tribe needs to have a backbone to help their people and help carry the much-needed dental therapist legislation with recommendations and encouragement.
Your people are in desperate need of dental care that can alleviate the suffering in their lives with the help of added dental therapists.
In the medical field, the physician's assistant is helping the medical doctors.
You also have an assistant to registered nurses, which are licensed practical nurses and medical assistants.
Lidio Rainaldi is worried about dropping standards in the medical field.
We may not have much of medical and dental shortage in the cities opposed to the Indian reservation, but the funds and locality of the reservation have a lot to do with it.
I want to thank Michael Bird for alerting this message in the Navajo Times.
Florine Benally Marcell
Wickenburg, Ariz.
We all know who won the presidential race
I would like to make a comment about the 2014 Navajo Presidential Election, my opinion about the turnout, the disputes, and the chaos, which made all of us wonder why we all voted.
Voting for a tribal president should be clear and simple.
We all know who won the race for Navajo Nation president.
He had all the qualifications to lead his people for the next four years.
It is wrong for this kind of behavior to be committed against a person who wants to be the next Navajo Nation president, denying him the right to be a leader.
All of us Navajos are fluent and we all speak both languages (Navajo and English).
Most elders understand English.
You can see it at chapter houses.
Larry S. Smith
Gray Mountain, Ariz.
Allow the people to vote once and for all
I am writing this letter to the presidential candidates and our president regarding the language requirement on the ballots.
Allow the people to vote on this issue once and for all.
Our language, speech, sex, and religion are basic human rights and are not to be used for any government regulations.
Arizona's "English only" proposition was voted down because it would discriminate against the non-English speaking citizens of Arizona.
Jefferson Lee Sr.
St. Michaels, Ariz.
"As a nation, we voted Chris Deshcene"
I am writing to express my concern regarding the lack of integrity demonstrated by justices of the Supreme Court of the Navajo Nation.
The trend of their verdicts demonstrates that our Navajo Nation judges are unprofessional, corrupt and a disgrace to themselves and to the nation.
They have allowed corruption to overrule their minds.
They have become strangers in their own field of study, with themselves become enemies to the ethics of the law profession.
Why should the overseers of justice be the very people to relish in the institution of injustices? Does it make sense? Can the Navajo Nation judges be any match for their bilagaana contemporaries? I am afraid not.
Subsequently, they have to bow down their heads in shame for failing the nation as they have done and continue to do.
As a reminder: Justices are sworn to uphold the constitution, the Navajo Nation Bill of Rights, and Fundamental Laws Ð they are neither a pontiff nor a potentate.
Justices do not rule by edict, executive order, fatwa, or diktat.
Justices decide matters by evaluating the facts and applying the law, and are not free to be a judicial partisan.
It appears the justices have allowed corruption to overrule their minds; they have become strangers in their own field of study; they disregard the oath sworn by all members of the legal profession to conduct themselves ethically, in accord with the Constitution, and to uphold the law.
Justices have no legal authority to usurp the people's right to elect their president.
We as a nation voted Christopher Deschene.
That is how we voted.ÊThe Navajo Supreme Court had no basis in fact or law to unilaterally determine whom the nation supports for president.
The Navajo Supreme Court acted beyond the law Ð outside the law Ð in defiance of the law, when they "ordered" Christopher Deschene to be removed from the ballots and then proceed with the elections.
The Supreme Court's actions has consequences beyond the election: that order created confusion and chaos among the people; that order denied a constitutional right to the people; that order disenfranchised a nation; and that "order" attempts to steal a core value: respect for the rule of law.
Why must the protectors of justice be the body to perpetuate injustice? If the Navajo Supreme Court cannot uphold the rule of law, who will?
On behalf of all those who hold our freedom dear, those who respect the rule of law, and those who challenge bigotry with acceptance, I request the Navajo Supreme Court rescind its "order" denying the people their right to elect their own president.
Mike Manygoats
Beegashiibito'
(Cowsprings), Ariz.
In need of Native actors, extras
My name is Elissabeth Phipps.
I am Kinlichii'nii (Red House Clan) and Naakai dine'é (Mexican Clan).
I am a student filmmaker out of Eastern New Mexico University.
I am currently producing a short film titled "Hané" that I wrote.
I grew up listening to my grandma's stories and they captured my imagination.
For so long I have wanted to make a film that could show how powerful a story can be, and that's what this film is about.
This film is about storytelling, people, and finding a place to belong.
We want to take this story form script to screen, but we can't do it alone.ÊWe have a crew and we are fundraising for our project but there are things our budget can't cover.
First and foremost, we need people.
We need native actors and extras who can film the week of March 16-20.
We can't afford to pay actors but we will provide food, lodging, and transportation for all cast.
We are currently casting the following characters:
Joseph, 60-65 years old, speaking role, and Native.
Joseph is an elderly man that has a habit of telling long, winding stories.
Raymond, 18-24 years old, speaking role, and Native/Mixed. Raymond is a high school student that's let peer pressure push him in to many bad decisions.
Mother, 25-30 years old, non-speaking role, and Native. The mother of a traditional Navajo family.
Father, 25-30 years old, non-speaking role, and Native. Father of a traditional Navajo family.
Second Son, 5-10 years old, non-speaking role, and Native. A small child in a Navajo family.
Third Son, 5-10 years old, non-speaking role, and Native. A small child in a Navajo family.\
Little girl, 4-6 years old, non-speaking role, and Native. A small child in a Navajo family.
Boys in truck, 18-24 years old, five non-speaking roles, and Native. Five boys riding in a pickup truck with Raymond.
Actors aren't the only thing we need, we also need costume pieces.
For the traditional family, we intend to have them dressed in traditional clothes, however, our budget is small and we cannot afford some things.
If we could borrow pieces such as woven belts or moccasins, it would save us a lot of trouble and help us keep the authenticity of the scenes.
If you are interested in one of these roles and or helping out, please contact us by calling 505-659-7931, or by emailing us at LizAPhipps@gmail.com.
You can also visit our indiegogo page at https://www.indiegogo.com/projects/hane/x/10062739.
Elissabeth Phipps
Portales, N.M.