Amy Naazbah Reeves-Begaye crowned 2023-24 Miss Navajo Nation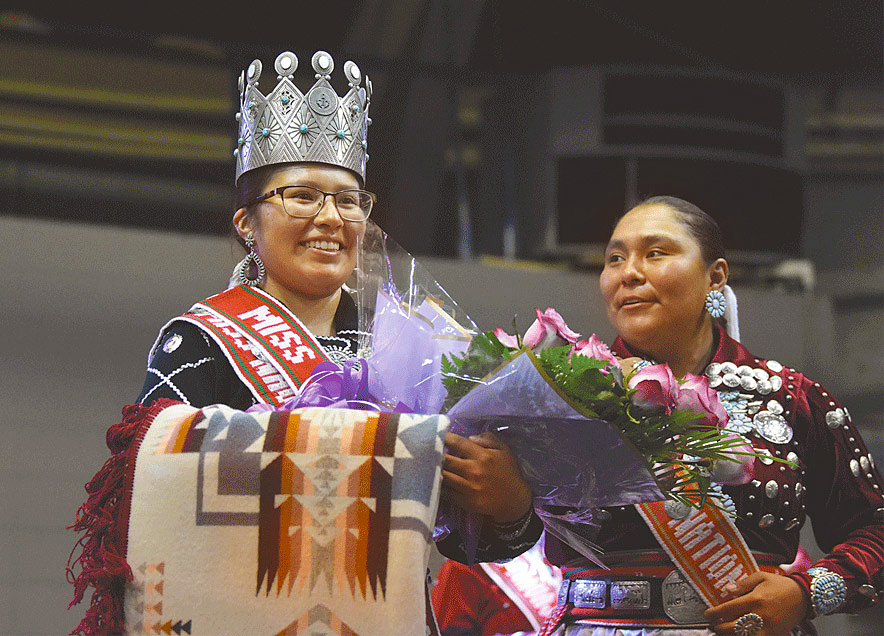 WINDOW ROCK
Amy Naazbah Reeves-Begaye was crowned the 2023-24 Miss Navajo Nation Saturday night.
Reeves-Begaye, 25, from Tódinéeshzhee' and Bitł'ááh Bito', New Mexico, was one of two contestants for the 71st Annual Miss Navajo Nation pageant. She is Bit'ahnii and born for Naasht'ézhí Tábąąhá. Her maternal grandfather is Hashk'ąą' Hadzohí, and her paternal grandfather is Kinyaa'áanii.
She is the daughter of Odessa Reeves and Leroy Begaye.
Having started Monday with the infamous sweat-dripping and heartwarming sheep butchering contest, Reeves-Begaye and Myleka Nizhoni John ran head to head this year for the Miss Navajo Nation title.
On Saturday evening, attendees filled the staircases leading up to the Window Rock Sports Center, eager to find the best seats to watch the coronation.
Among the crowd waiting were two former Miss Navajo Nation titleholders: 1996-97 Miss Navajo Nation Josephine Tracey and 2014-15 Miss Navajo Nation McKeon K. Dempsey.
Both Tracey and Dempsey said they want to tell Reeves-Begaye to keep a hold of who she is, embrace every moment the new journey gives them, and stay strong.
Valentina Clitso, the 2022-23 Miss Navajo Nation, welcomed attendees by saying she is glad to have been Miss Navajo and is ready for "retirement."
"No matter what, Kayenta wins tonight, Mustangs win tonight," said Clitso. At the same time, the audience whooped and hollered, proud of their hometown to be represented at this year's Miss Navajo Nation competition.
To run for Miss Navajo Nation, the young women have to go through a rigorous competition that includes rich Navajo cultural understanding.
Reeves-Begaye emotionally shared her acceptance speech and said she is committed to learning through her reign.
The 25th Navajo Nation Council gifted both contestants blankets to honor their hard work.
Speaker Crystalyne Curley told all former Miss Navajo Nation titleholders, "Once a Miss Navajo, always a Miss Navajo."
Contest results:
Sheep-butchering competition – Amy Naazbah Reeves-Begaye
Traditional food competition – Myleka Nizhoni John
Business interview competition – Amy Naazbah Reeves-Begaye
Navajo traditional competition – Myleka Nizhoni John
Contemporary and traditional skills – Amy Naazbah Reeves-Begaye
Contemporary and traditional talent – Myleka Nizhoni John
Best essay – Amy Naazbah Reeves-Begaye
Miss Photogenic – Amy Naazbah Reeves-Begaye
Miss Congeniality – Amy Naazbah Reeves-Begaye
2023-24 Miss Navajo Nation first runner-up – Myleka Nizhoni John
2023-24 Miss Navajo Nation – Amy Naazbah Reeves-Begaye