Begaye endorses Shirley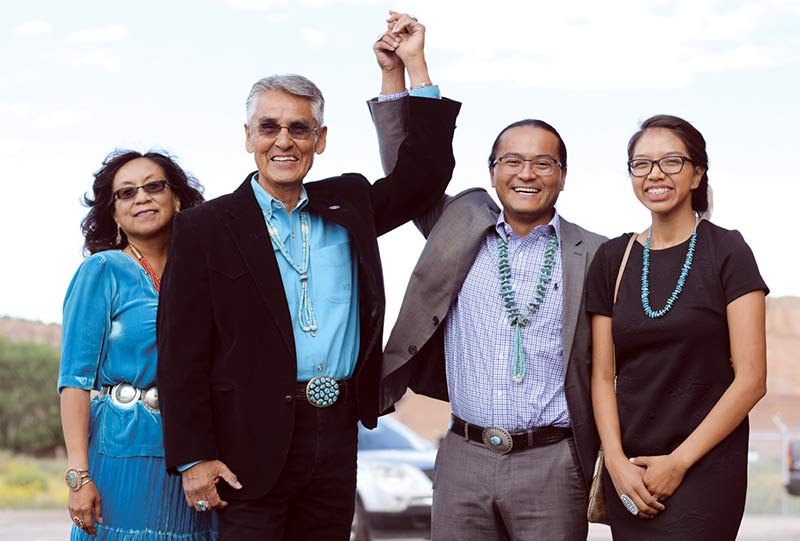 By Cindy Yurth and Krista Allen
Navajo Times
WINDOW ROCK
Saying Jonathan Nez "doesn't have the capacity" to make high-level decisions, President Russell Begaye Monday endorsed his own vice president's opponent, Joe Shirley Jr., during a Shirley rally in Albuquerque.
Begaye also revealed the Navajo Nation White Collar Crime Unit is investigating Nez for misuse of tribal funds.
Begaye described several initiatives he has started planning, including creating a Navajo Nation bank, a Navajo training hospital, and a Lockheed-Martin missile factory on the Navajo Nation, and said he trusts a Shirley-Buu Nygren administration more than he would trust Nez to carry out these plans.
"This is a very, very critical election," Begaye said, noting the Nation will be facing the loss of about a third of its revenue with the 2019 closure of the Navajo Generating Station.
"The vice president doesn't have the capacity to replace that revenue … I believe with all my heart that Dr. Shirley and Mr. Buu Nygren have the experience that is so, so critical."
Nez, interviewed at a campaign event in Tuba City, called Begaye's accusations "the old politics," a label he also used during the debate when Shirley went on the offensive.
"All these endorsements that are happening, let them have it," Nez said. "That's their way of trying to keep that old politics going and wheeling and dealing that's happening. Navajo people, they're tired of it."
---