Code Talker, Chinle icon Teddy Draper Sr. passes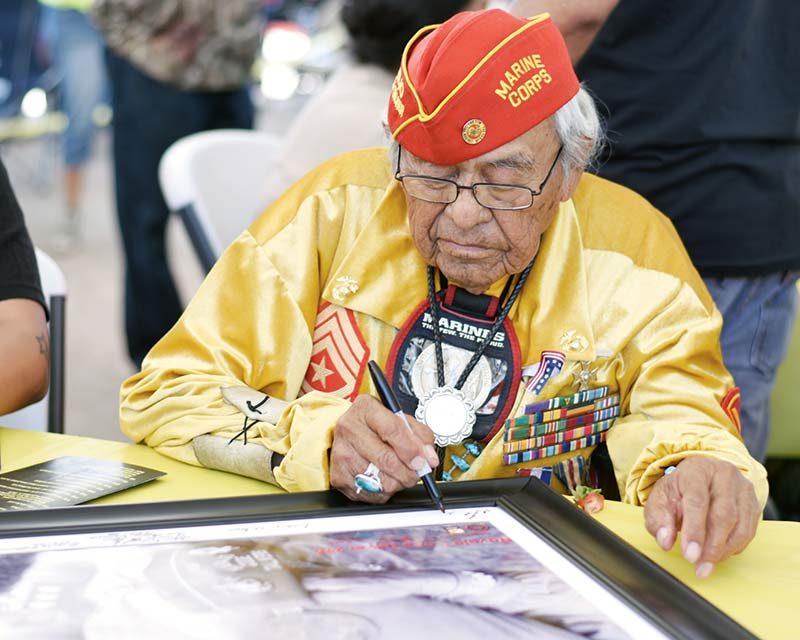 CHINLE
In the history books, Teddy Draper Sr.'s long life boils down to two sentences.
"We have raised the flag. We have taken the hill," Draper radioed in the Navajo Code on Feb. 23, 1945, as the U.S. claimed victory over hard-fighting Japanese troops on Mount Suribachi, Iwo Jima.
But here in his home chapter, Draper, who died Dec. 14 at 94, is remembered more for what he did after the war. He was a lifelong educator and proponent of the Navajo language; a very good amateur historian with a clear, objective memory; an actual grandfather to more than 60 children and a grandfather figure to many more.
As the caravan assembled Tuesday to escort Draper's casket from Our Lady of Fatima Catholic Church, where Fr. Blane Grein had come out of retirement to preside at his old friend's funeral Mass, the clerks at the Chevron across the street watched out the window. "I'm going to miss him," professed one. "He'd always come here to get gas, and stop in and talk to us."
Indeed, it's hard to find someone in Chinle who didn't know Draper. Attendees at his funeral overflowed the spacious church, and cars were parked a quarter-mile away along the dirt road east of the mission compound.
Many people in Chinle can trace their lineage to Teddy Sr.; as far as his descendants could tally at the family meeting Saturday, he had 14 children from his four marriages as well as an undetermined number from assorted mistresses. They lost count of his grandchildren at 60, and great-grandchildren already number in the dozens.
At the Chinle High School band's Christmas concert Monday, where they dedicated the song "America the Beautiful" to Chinle's beloved Code Talker, conductor Eric Swanson asked how many in the audience were Teddy's descendants. About 10 hands shot up, including that of one of the band members.
Draper's son Teddy Draper Jr. reported his father's last moments at the VA hospice in Prescott, Arizona, where he was placed after being diagnosed with an inoperable arterial blockage, were peaceful.
"He was content," Teddy Jr. said. "He said, 'I've completed the circle.'"
---