Code Talker Dan Akee passes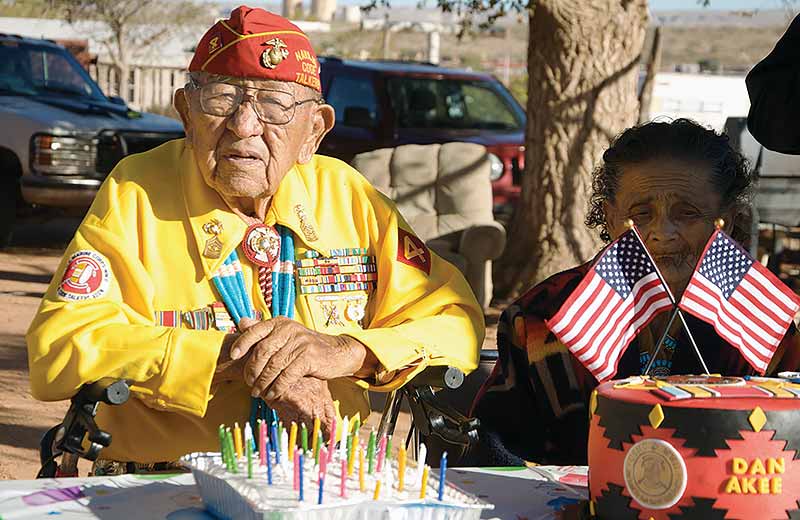 TÓNANEESDIZÍ, Ariz.
Navajo Code Talker Dan Akee died on Thursday in Tuba City, Arizona. He would have turned 95 on Veterans Day.
For his birthday last year, Akee received his wish of a renovated home thanks to a number of partners, including the Navajo-Hopi Honor Riders, the Navajo Nation Office of the President and Vice President, Red Feather Development, and the Western Agency Department of Navajo Veteran Affairs; and the 125 volunteers who took the time to restore the four-bed home.
The four-month project, called "Going Home," was completed this year in February.
Akee served with the 4th Marine Division from 1939 to 1945 at Iwo Jima, the Marshall Islands, Pacific Theater, and the Northern Mariana Islands – Saipan and Tinian.
Akee told the Navajo Times in an interview last year that he heard that the Armed Forces were recruiting Diné, so he volunteered but did not pass the physical. He volunteered again later and passed, becoming a member of the code talker team of the 25th Marine Regiment.
Akee served until he started to show the psychological effects of prolonged exposure to combat.
"You'd rather die or live," the Marine said last year. "I'm not afraid to die."
His son, Danny Akee said in the Navajo tradition, one does not say that. But in the military way, Akee "has the right to say whatever he wants. He earned it."
He was Kiyaa'áanii and born for 'Áshįįhíí.
To read more, please purchase the Oct. 20 edition of the Navajo Times.
---