Code Talker Teddy Draper Sr. passes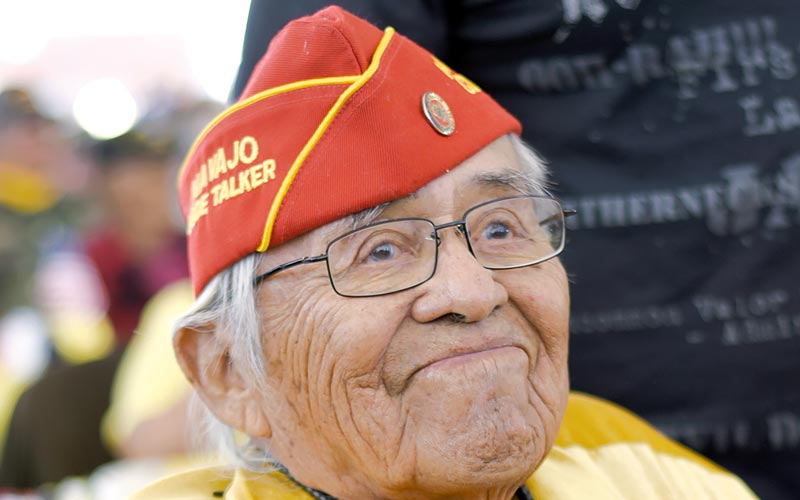 CHINLE
Navajo Code Talker Teddy Draper Sr. of Chinle passed away in a Prescott nursing home Thursday morning. He was 93.
Draper was born deep in Canyon de Chelly at a place known as Big Cave. He went to high school at Fort Wingate, New Mexico, where he was recruited to join the Marines as a Code Talker.
He served in Iwo Jima and several other decisive battles, losing most of his hearing in one ear when a shell exploded close to him on Mount Suribachi.
He did not receive his Purple Heart, however, until 2004.
After returning from the war, Draper became a Navajo language instructor, creating a curriculum and workbook that are still in use. He was awarded the Arizona Indian Living Treasures Award in 2013.
For decades, Draper was a beloved fixture in Chinle, where he breakfasted daily at The Junction restaurant, always wearing his Congressional silver medal and red code talker's cap, always open to conversation with tourists and locals alike.
"I don't have anything to say at the moment," said a choked-up Junction Manager Julia Etsitty upon learning of Draper's demise. "It's such a surprise."
Draper's mind was sharp up until almost the end, and he was often consulted as a source of local history.
He had 12 children, 57 grandchildren and more than 20 great-grandchildren.
There are now 11 surviving Navajo Code Talkers.
Funeral services will be Tuesday at 9 a.m. at Our Lady of Fatima Catholic Church, followed by Mass. Burial will be in the family plot in Del Muerto, Arizona, followed by a reception in the Catholic Hall.
---