'Dig deep and you'll find it'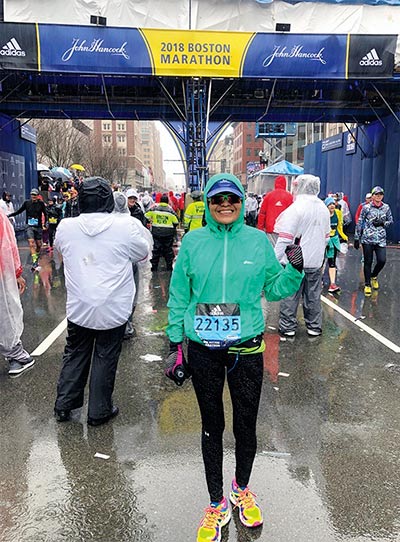 Diné runner conquers Boston, her own fears
FRUITLAND, N.M.
Esther Arviso was only three miles into the 2018 Boston Marathon when her right quad started to ache.
Amid cold, wet, blustery weather, she wondered if she'd make it through the 23 miles left to go.
"I thought, 'What if I don't finish the race?'" she remembered asking herself. "But I kept pushing forward, then I got halfway. I remember thinking, 'I'm halfway, I can do this.' I was tired and I was cold. I did a lot of talking to myself and thinking about my family. I started thinking about my mom and sister, I know they were praying for me; my late dad, my nephew that's in the hospital, I thought of him: 'If he can't run, I can run.'"
And she did. Arviso finished in 4 hours and 19 minutes overall in the race, held last month.
Arviso, who is originally from Rock Point, Arizona, and lives with her husband Matt Arviso and two sons in Farmington, finished her first-ever Boston Marathon — only her third marathon since 2016.
Arviso said it was the opportunity of a lifetime, one she worked very hard toward.
"I just got really emotional at the end as I crossed the finish line," she said. "It was really a great feeling … to finish it."
Arviso has been a runner most of her life. She started in college, about 20 years ago, as a stress reliever and dabbled in races here and there.
She's run a total of five marathons in her lifetime, the fifth being Boston, and the first being the Shiprock Marathon in the 1990s.
---