Cardinals win first-ever state playoff game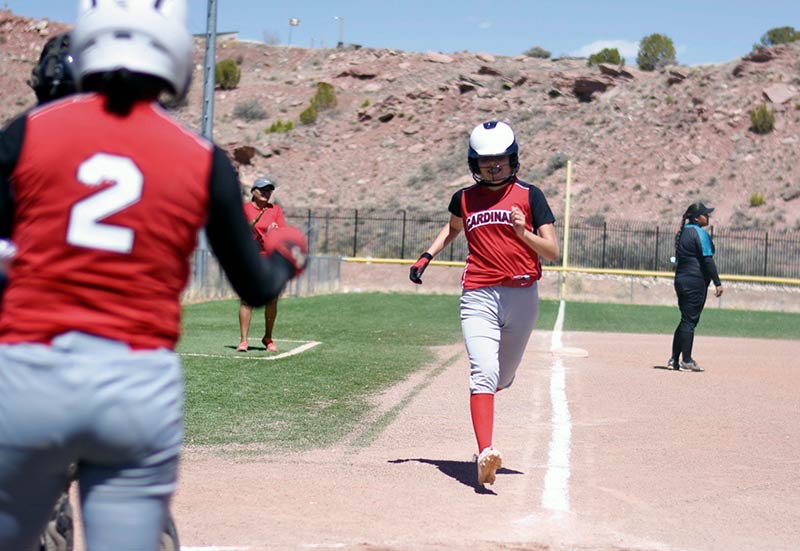 WINDOW ROCK
The "W" on Saturday morning seemed to outweigh all of the other wins the St. Michael softball team had collected this past season.
In their second appearance in a state playoff berth, the Lady Cardinals (17-5) made history by winning their first-ever state tournament game.
As the tournament's No. 8 seed, St. Michael battled No. 9 Anthem Prep in a tight contest before emerging with a 7-6 win at Rose Mofford Complex in Phoenix.
"We went down there really hoping to win that first round," St. Michael coach Karen Tom said, while alluding to the team's goals they set at the beginning of the season.
"We came out real strong," she said. "Our bats were there, so was our defense."
With the bases loaded in the bottom of the seventh, St. Michael got a much-needed single from left outfielder Maya Ross as she had come up empty-handed in her three previous at-bats. But on her fourth attempt, Ross hit the ball up the middle and it was fielded by Anthem Prep's shortstop.
"When she came up, everything was riding on her," Tom said of Smith. "Before she went to bat I told her that we needed an infield hit and it needed to hit the ground."
Ross came through with flying colors as leadoff hitter Jalynn Smith beat the throw at home for the game-winning run.
On Friday, the Cardinals will take on top seed Superior at 4 p.m. (MST) at Rose Mofford Complex with the winner advancing into Saturday's semifinals at 10 a.m. The championship game is slated for 6:30 p.m. on Monday at Farrington Stadium in Tempe, Arizona.
"Our goal for our next game is to come out strong and to cut down significantly on our errors," Tom said.
---