Diné UFC champ credits her ancestors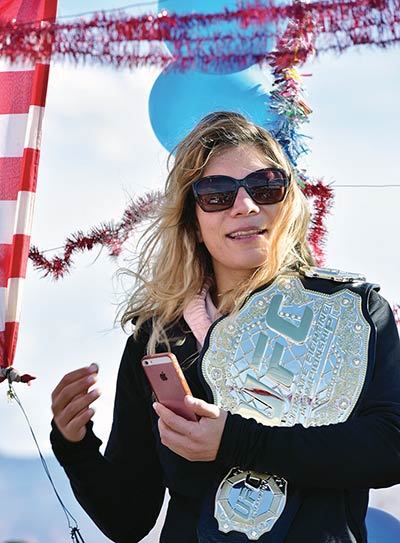 WINDOW ROCK
A Navajo woman pitted the resilience of her ancestors against the experience of a veteran opponent to take a championship belt home to Diné Bikéyah.
Nicco Montaño, who grew up in Lukachukai, Arizona, gritted out a dominant unanimous decision in Las Vegas at "The Ultimate Fighter 26" finale last Friday, where she became the Ultimate Fighting Championship's first women's flyweight champion.
Montaño took judges' scores of 50-45, 49-46, and 49-46 to dominate Roxanne Modafferi, who has experience going back to 2003 and holds a 21-14 record.
"She's a vet," Montaño said. "She's been after an opportunity like this her whole career, for 14 years now, so I knew it wasn't going to be an easy fight to begin with, because she was ranked number one. But also she definitely, definitely wanted it as badly as I did."
Montaño held a record of 3-2 beginning in 2015 and went into the octagon – the official cage of the UFC – holding a title from a smaller league, but said she went into the cage with much more than that. She brought resilience from her ancestry as a Diné woman.
She said that legacy included fighting in the past by Diné women when it became necessary. She said experiences around the Navajo Nation and learning about the history of the Navajos' fight to survive brought perspective to her fight in the cage.
"You're not going to war necessarily, you're not fighting for your life necessarily, and there's so many people who have done that with lesser skills and lesser tools – and those people are my ancestors, and that's who makes me believe that I can be just as strong," she said.
Her resilience served her more than just during the fight itself. Competitors stayed at a house in Las Vegas for the reality TV show. She said she grew up used to discomfort, where minor inconveniences like close-quarter living pale in comparison. Her discomfort, even in training, went beyond what most fighters face.
Many fighters run, but the new champion said running on the reservation bred a grit into her that many might not have and put her up against obstacles most will never know – like getting attacked by feral dogs during a run.
"Running down a dirt road, I got attacked by a herd of dogs," she said. "I got bit by them. I still had to finish my run. I had to run back, so I had to run back three miles."
The fighters stay in training throughout their time in the reality TV house and fight exhibition bouts at the end of each episode. Montaño racked up three wins in the time she stayed at the house. She defeated Barb Honchak, Montana De La Rosa, and Lauren Murphy, all on unanimous decisions.
"The fact that I already had beaten Lauren and Barb just grew my confidence," Montaño said. "After the show I don't doubt myself. I don't doubt that I belong where I'm at."
Support during the Dec. 1 match came from all over the Navajo Nation, but a previous championship fight in a smaller promotion let her know she had fans all over Indian Country.
She said she knew that supporters in the NoDAPL movement against the pipeline in North Dakota watched and rooted for her during a championship fight for the King of the Cage flyweight title.
Another Native woman fighter confirmed that eyes from all over Indian Country watched when Montaño vied for the UFC belt in December.
Nikki Lowe, a Creek, Seminole and Chickasaw fighter in Albuquerque, said her social media feed lit up to show that Montaño went into the octagon with support from the Navajo Nation and beyond.
"There's many nations behind her, it's not just Navajo," Lowe said. "She's an indigenous woman, and there's lots of people of different tribes that were supportive of her, and excited for her, and proud of her."
Social media with MMA fans can get rough, and Lowe said she saw and heard complaints from some veteran fans that people who didn't know about MMA were watching just because of a Native American fighter stepping in the octagon.
"Now they're saying things and being mad at people for jumping on the bandwagon that never watched fighting or anything like that," she said. "But it was like, yo, that's not the point. The point is that we have a tribal member that's out there fulfilling her dreams and going after it and made it to the big stage."
Either way, Navajo MMA fans, new-to-MMA fans, and other Native American fighters tuned in to support the first Navajo UFC champion.
Montaño stuck to basics like taking the center of the cage and staying active by throwing strikes at all kinds of angles – including a series of elbows while hanging from her opponents neck by the legs in a move called a triangle – but said she never felt like the tide had turned in her favor.
But Nikki Garcia, who works to promote Native American fighters and has a few amateur fights on her record, said she saw that ancestral resilience turn the tide for Montaño.
"I think she just kept her composure, and she stayed focused, and she used her strength," Garcia said.
With the victory in hand, Montaño caused an emotional moment for Garcia with more than her fighting spirit and skill: Montaño spoke in Navajo in the cage after the win, which Garcia said drew tears as she watched.
"Ahxéhee' shikéí dóó shidiné'é," Montaño said in the cage after the fight. "Ayóo ániiníshní."
---