Trek left me very, very tired – but invincible!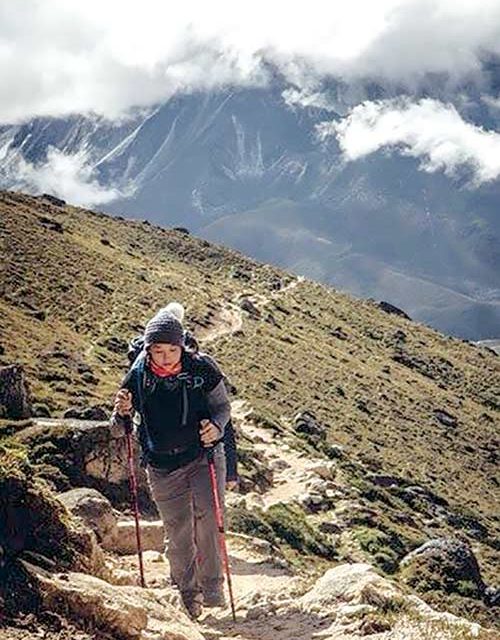 By Andrea Wagner
Special to the Times
In 1999 I remember sitting at my high school graduation not knowing what would happen next. The "future" was like a huge blank canvas in front of me. It was both scary and exciting.
Since then, I've been blessed with many opportunities to travel and go on adventures around the world. It's been incredible to see how our Diné people have a lot in common with our brothers and sisters around the world, especially in Nepal. This past September, my latest adventure was a trek in Nepal to Everest Base Camp.
Reaching Everest Base Camp was a really hard thing for me. There are many people from the rez and throughout the world who could probably cruise up and down the trails in Nepal with ease. I'm not one of them. My non-athletic self crawled up the trails at a snail's pace. But when I stood at 18,514 feet in the Himalayan Mountains looking up at Mount Everest, I felt invincible – very, very tired but invincible!
That moment is something I'll forever draw strength from when things in life get difficult. It's incredibly empowering to achieve something that pushes your limits, makes you dig deep and at times want to give up. But when you accomplish this big goal, the feeling is phenomenal. You realize how strong you really are and what you are capable of achieving.
In the weeks leading up to the trek I really had no idea if I would even make it to base camp. I thought it might be "too extreme and Navajo's don't trek to Mount Everest!" Apparently this one does. I climbed every hill and mountain in Arizona to prepare for this epic trek. I spent a lot of time in the gym and on the trails. Every time I thought about how massive those Himalayan Mountains were, I hiked a few extra miles or stayed a few more minutes on the Stairmaster.
In Kathmandu, Nepal, I teamed up with the trekking company Ace The Himalaya. Our guide Nirajan led me, two other Americans, two Australians, and one Brit through the mighty Himalayas up to the base camp of Mount Everest. Along the way we shared the trails with other trekking groups from all over the world.
The local Nepali people we passed in villages along the way took great care of us. They were so kind and always greeted us with a smile and friendly "Namaste" (the Nepalese version of "Yaa'at'eeh").
With thousands of tourists streaming in from all over the world throughout the year, they have provided all the basic amenities anyone could ask for. Because we were so high up in the mountains, most of the supplies are transported into the tiny villages by porters or yaks.
Yaks are like Nepali oxen. They can carry heavy loads at extremely high altitudes. The porters were men and women with superhuman strength. They carried loads towering over their heads and weighing three times their body weight and they did this wearing sandals. It was incredibly humbling to be passed up on the trails every day by porters when all I carried was my water bottle.
The view along the trail was incredible! It was thrilling to look up into the sky at what I thought was the tallest mountain I'd ever seen, then the clouds break to reveal an even taller mountain right next to it! As majestic as they all were, they were dwarfed by Mount Everest.
---