Losing those uranium blues?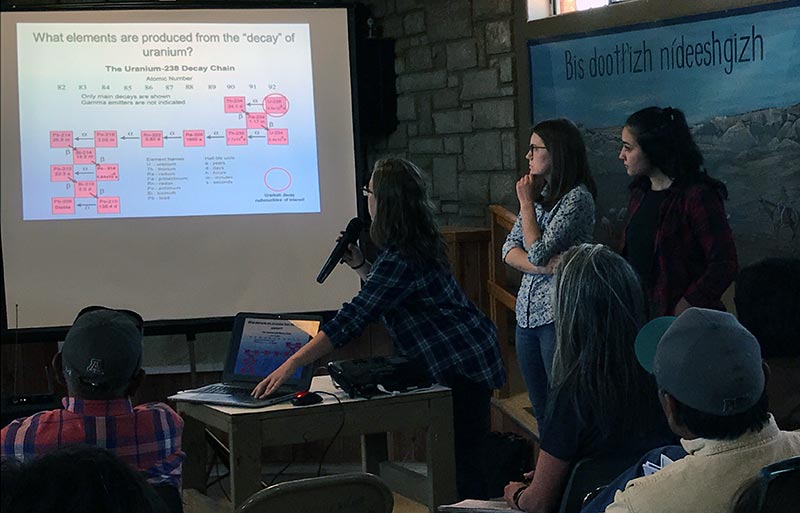 BLUE GAP/TACHEE, Ariz.
After living with an abandoned uranium mine for 60 years, Blue Gap/Tachee Chapter finally hit pay dirt.
At the regular chapter meeting on Thursday, the good news just kept coming.
First, scientists from Notre Dame University reported their research had pinpointed the worst areas of contamination and they can soon turn their attention toward developing some inexpensive, simple filtering techniques for the water.
Then researchers from the University of New Mexico and Michigan State University revealed they had set up a trailer that very morning and would be ready in about a week to undertake an air quality study.
The Navajo Nation Environmental Protection Agency unveiled its own extensive soil and water sampling project, set to start this month.
And finally, from Linda Reeves, remedial project manager for the U.S. EPA, the stunning news the chapter had been waiting three generations to hear: "The money will be available to clean up the mine."
While the developments seem sudden, "A lot of effort has gone into this," said Chapter President Aaron Yazzie. "For so many years we've been yelling, 'Hey, uranium mine here! People are dying off!'
"With these efforts and with the help of Chris Shuey (of the Southwest Research and Information Center, which started the ball rolling on the research), we finally have hope," he said. "We're really thankful to all the people who came out here."
Added Seraphina Nez, whose family was recently awarded a plaque by the Navajo Nation Council for its advocacy of the chapter residents whose homes abut the old mine Claim 28, "It has been a slow, strenuous process. But it's working."
[ph snippet=3]