'We lost lives,' but quick response to school shooting praised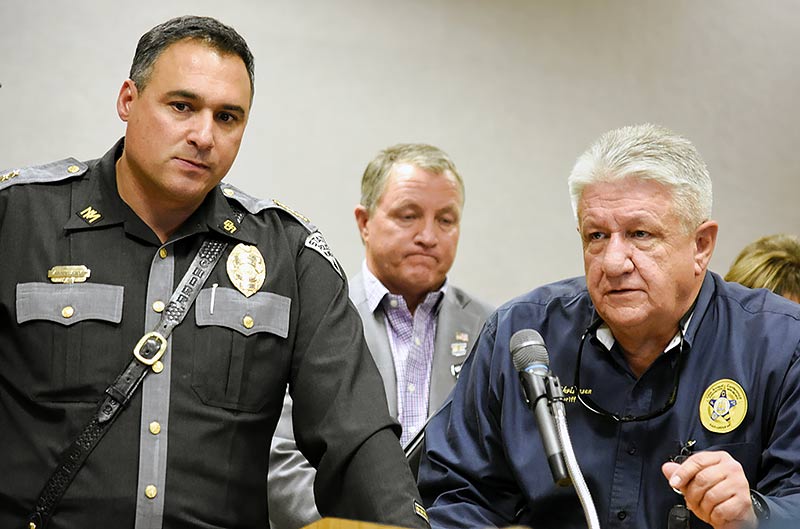 AZTEC, N.M.
New Mexico's state police chief is crediting the quick response of Aztec High School teachers and law-enforcement officers during a shooting Thursday that claimed the lives of three people.
In a school with about 900 students, two students died. The suspected shooter also died. It was not confirmed whether the male shooter was a student, or how he died, according to law enforcement officials.
But more could have been injured or killed had it not been for the fast response from police and teachers.
New Mexico Governor Susana Martinez, at a press conference Thursday afternoon, agreed.
"Today is a very difficult day for the community of Aztec," Martinez said. "We come with a very heavy heart and we want you to know that all New Mexicans are standing with you."
Details of the shooting remained sketchy today, as the complex investigation continued.
But New Mexico State Police Chief Pete N. Kassetas said that both the Aztec Police Department and San Juan Sheriffs Department were quick to responds to the scene.
"They were quick to get to the scene and mitigate the violence that was happening," Kassetas said.
Aztec Police Chief Mike Heal said four of his officers responded in less than a minute to the scene. The initial call about the incident happened just after 8 a.m., when class was in session. He also acknowledged the staff of the school were "heroes and helped saved lives."
"I'm sure as we go further into the investigation those heroes will come forward," Heal said. "I'm proud of the team we have here and the cooperation of the law enforcement."
A shaken Aztec Municipal School superintendent Kirk Carpenter said the school has conducted drills should anything like a shooting occur. He said it was the help of these drills, along with the swift reaction from teachers and staff, that prevented any more deaths or injuries.
"We lost lives, but to see the way the people came together, the response of law enforcement and this community is amazing," said an emotional Carpenter. "There's a lot of healing that needs to take place. Times like this you feel violated because of the way schools are set up to be the places we send our kids to be safe, they are still safe, but sometimes evil still intrudes upon them."
On Thursday, erroneous reports indicating that 15 people had been injured. However, officials later corrected their statements and said no one else was hurt.
Navajo Nation Police Chief Philip Francisco, also at Thursday's press conference, offered the tribe's law-enforcement support to the community, as well.
"My goal coming out here is to offer our resources, our officers if we need to," Francisco said. "Just offering help because I know that's what they would do for us."
He said that after the Aztec shooting other reports from schools on the Navajo Nation were reporting shootings. Those reports were false.
"We immediately started getting calls from our citizens from other schools and we sent out our officers to double check and make sure this wasn't happening," said Francisco.
Francisco served on the Aztec Police Department, San Juan County Sherriff's Department, and Farmington Police Department. Thursday's shooting proved that this type of tragedy can happen anywhere, he said.
"It's very tragic," Francisco said. "It hits close to home. It could happen anywhere. We want to make sure we're prepared and do all we can for our citizens."
---