MV boys stun ALA Ironwood with game-winning 3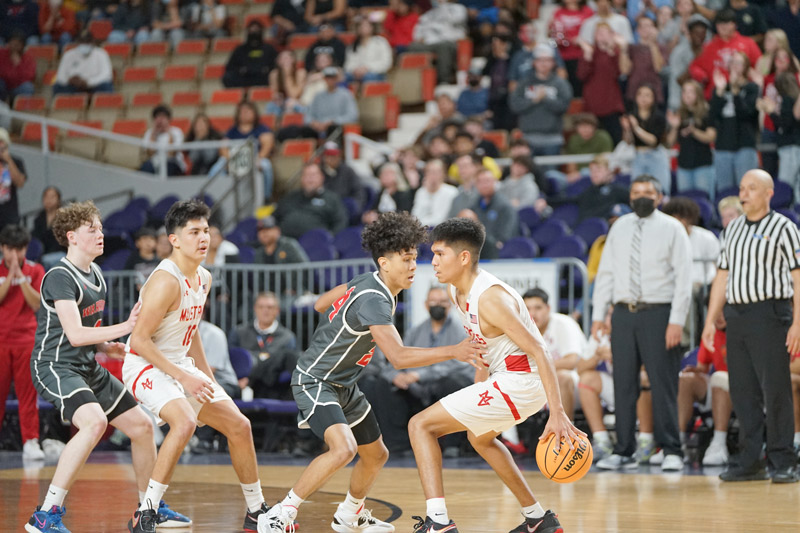 Mustangs set to play Valley Christian in title game
PHOENIX
Chalk this one up as a gut-wrenching win for the Monument Valley boys basketball team.
In overtime, the sixth-seeded Mustangs got an improbable 3 from junior Jayden Redhouse with five seconds left to score a 63-62 win over American Leadership Academy Ironwood in the 3A boys state basketball semifinals before a boisterous crowd Friday night.
"Honestly, this is probably the biggest shot I've made," said Redhouse, who finished with four points.
The one-point triumph earned MV the right to play top-seed Chandler Valley Christian in tonight's championship game, scheduled for 6 p.m. at the Arizona Veterans Memorial Coliseum in Phoenix.
In the girls action, the Alchesay Lady Falcons pulled away from Window Rock 44-36. It will play Show Low as the Cougars took out Chinle by a 41-35 count.
The 3A girls championship is slated for 4 p.m. today.
MV boys
The game-winner by Redhouse came as a huge surprise as the final play wasn't met for him.
Nonetheless, he nailed one of the biggest shots of the tournament off an inbound play.
"We actually had a play setup at the end," MV coach Randolph Gilmore said. "We went over what everybody was going to do, but they didn't run it."
Nevertheless, the MV coach wanted his squad to get multiple shots to give themselves a chance to send the contest into a second OT, at least.
Instead, point guard Uzziel Flores found Redhouse in the corner as he made a step-back 3 to put MV in the state title game.
"We got a quick shot off, and it worked in our favor," Gilmore said.
"Having Jaden make that last shot was something else," MV senior Albrandon Byjoe said.
Byjoe, who finished with a game-high 25 points, also had a big shot with his coming in regulation. The MV guard nailed a trey with two seconds left that tied the contest at 56-all.
"I knew it was going in," he said.
To set up that shot, Byjoe retrieved a 3-point miss from Uzziel Flores, and with two seconds left, he pumped fake two AIA Ironwood players to get himself open.
"They both jumped, and that was my chance to shoot," he said.
In addition to Byjoe, senior Roberto Flores scored double figures as he finished with 14.
"Everybody chipped in," Gilmore said. "People played some big minutes, so it was a good team win for all of us."
And although they had their doubters, the MV coach said making the championship game was their destiny.
"Regardless of what others were saying, we had to believe in ourselves," he said. "Coming in, we knew that we belonged here, and all that mattered was having that belief."
"It's a dream come true for us," Byjoe said. "It's been 20 years since the Mustangs boys basketball team has made an appearance in the championship game."
In the opening half, MV started strong, gaining an 18-11 lead with Byjoe and Roberto Flores combining for 16 of the Mustangs points.
In the next stanza, the Gilmore-coached team got balanced scoring, with seven players recording at least two points as MV gained a 35-23 halftime cushion.
Behind an 18-7 third-quarter run, ALA Ironwood put the Mustangs on its heels as it pulled within 42-41 entering the fourth.
The seventh-seed Warriors continued its rally as it got up 50-43 with 5:41 left on a 3-point play from 6-foot-6 senior Corey Wood, who led ALA Ironwood with 19 points.
Despite things looking bleak, MV regrouped and closed out the fourth quarter on a 13-6 run to pull even with ALA Ironwood.
"We had to claw our way back," Byjoe said. "We just played Mustang basketball, and it got us into overtime, and we finished the job."
Girls action

After putting up 13 points in the opening half, Alchesay used its defense to jumpstart its offense to outscore Window Rock 31 to 14 in the second half.
"That's the way we've done it all year," Alchesay coach Rick Sanchez said. "We've done that a number of times where we just stunk up the gym in the first half and come back and win in the second half.
"But the girls are relentless," he added. "They play so hard, and the defense is what we really work on. We try to be in position to where we stop the ball and make the other team play."
With that, Sanchez said they put their opponents in an unfavorable position, which led to more opportunities.
"We just take advantage of those traps," he said, "The girls do a great job at that."
The Falcons took the lead for good with 12 seconds left in the third quarter when junior guard Jazlyn Nosie scored on a transition basket.
Alchesay pushed its lead to as much as eight on a 3-point play from senior Jenieth Sanchez at the 6:39 mark.
"I knew we could come back, and it was going to take our defense in order for our offense to get going," said Jenieth Sanchez, who had a team-best 14 points.
Still, the Scouts did not go away.
Window Rock closed the gap to 37-36 with 3:12 to go when senior Shirly Yazzie hit 1-of-2 free throws.
But in the game's closing moments, the Scouts had four turnovers as Alchesay scored the last seven points.
"Honestly, I think the crowd got to us," Window Rock coach Gabrielle Whitney said. "The girls are not mentally prepared to play in crowds like this.
"I believe the fans had an effect on them, especially in the third quarter," she added. "We tried to calm down, but Alchesay is a great team, and I do have to give them props."
In the other semifinal, the Show Low Cougars denied Chinle a second trip to the 3A finals.
The Cougars took the lead for good at the one-minute mark of the third period with a 3-point shot from junior Mikenzie Kulish.
That basket gave Show Low a 28-26 cushion, and in the fourth, it led by as much nine points as it held Chinle.
The Wildcats got 16 points from senior Temyra Bia, while Shaundiin Yazzie had nine in the losing effort.
---