New Miss Navajo crowned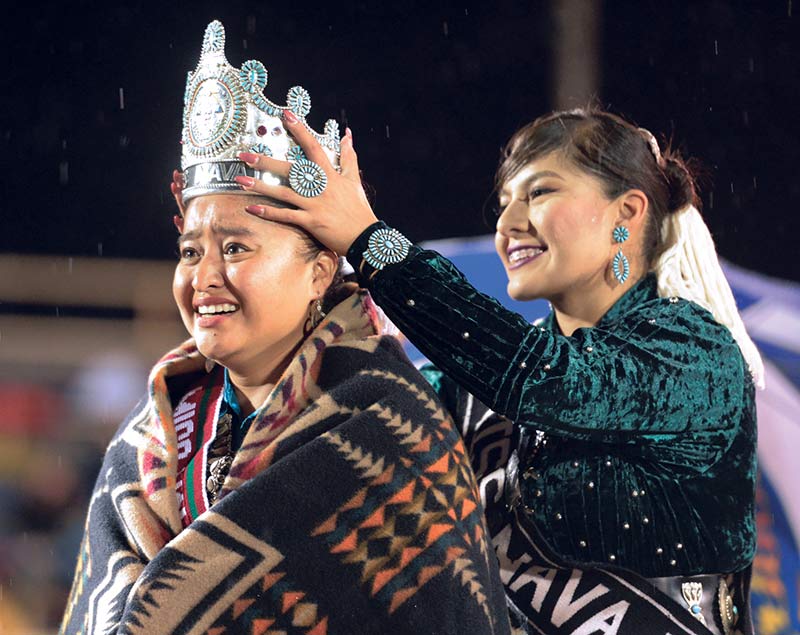 WINDOW ROCK
Crystal Littleben, 25, went from second runner-up to being crowned the 71st Naabeehó Bich'eekį' in a last chance effort to win the coveted title.
Littleben is originally from Tsénikání Bis Dootł'izh, Arizona but resides in Tónaneesdizí. She is Kinłichíi'nii and born for Mąii Deeshgiizhinii. Her maternal grandfather is Bįįh Bitoodnii and her paternal grandfather is Bit'ahnii.
Littleben is a Northern Arizona University alumna who has a bachelor's in psychology with an emphasis in Native American studies.
"I feel very relieved–– happy. I worked very hard for this," Littleben told the Navajo Times, moments after being crowned by exiting Miss Navajo Ronda Joe.
The week started off with a bit of a struggle after Littleben came in third, with her partner and fellow contestant Kayla Martinez, in the infamous sheep butchering portion of the competition.
"It was very exhausting," Littleben said about her week of competition. "All the girls will say it was very exhausting."
Dorothy and Thomas Littleben, along with other family members, stood close by and looked on as their daughter hugged the other seven contestants who braved the strenuous Miss Navajo pageant.
Thomas Littleben was speechless, but it was Dorothy who said she had no doubt that her daughter would be named the next Miss Navajo.
"We were already expecting this, due to her skills and talent," Dorothy said. "We are happy."
First Runner up: Ravonelle Yazzie, who won for "best butchering" and "best essay"; Second runner-up: Niagra Rockbridge; Third runner-up: Darienne Nez, who won "most photogenic."
---