One year later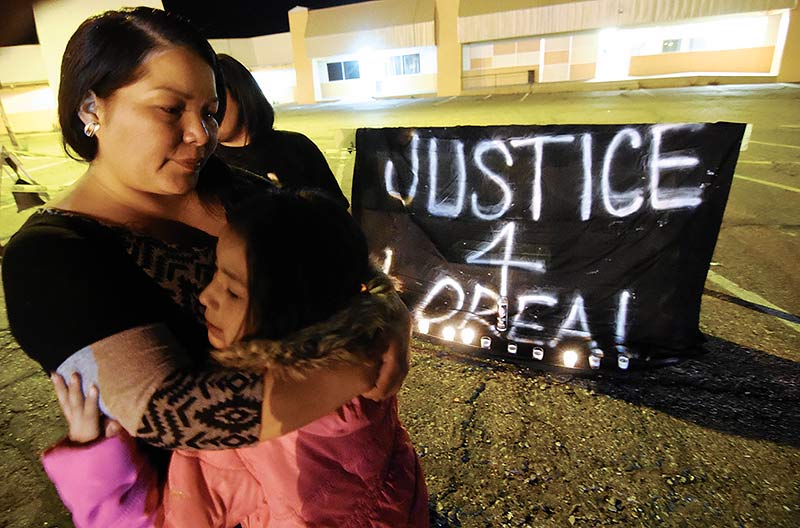 Family of Loreal frustrated by inaction of tribal leaders
WINSLOW
Loreal Tsingine took her last breath March 27, 2016 after Winslow Police Officer Austin Shipley shot and killed her when it was reported that she had shoplifted from a local store.
Immediately following her death, supporters came together wanting justice for Tsingine. Navajo Nation President Russell Begaye said the Navajo Nation would not rest until justice was served.
Tsingine's family was assured with the support they were getting from the Navajo people and its leaders that justice for Tsingine's killing would happen.
But one year later, justice has not been served, the hundreds of supporters have dwindled and the Navajo leaders have not said anything more on their crusade for justice for one of their own.
The only significant events that have happened within the year was officer Shipley, along with Winslow Chief of Police Stephen Garnett, resigned.
But this was not enough for the family.
"Not one peep from no one. For us, it's been really frustrating," said Tsingine's aunt Floranda Dempsey. "There's a lot of anger. We gave up on the Navajo Nation; the Navajo Nation President is a joke. It's embarrassing. We feel betrayed."
Commemorating one year since officer Shipley shot Tsingine five times, after she brandished a pair of scissors, family members and a dozen or so supporters peacefully marched from the Winslow City Hall to the Winslow Police Station.
---