Parents of daughter living in Houston said they've not slept much since Hurricane hit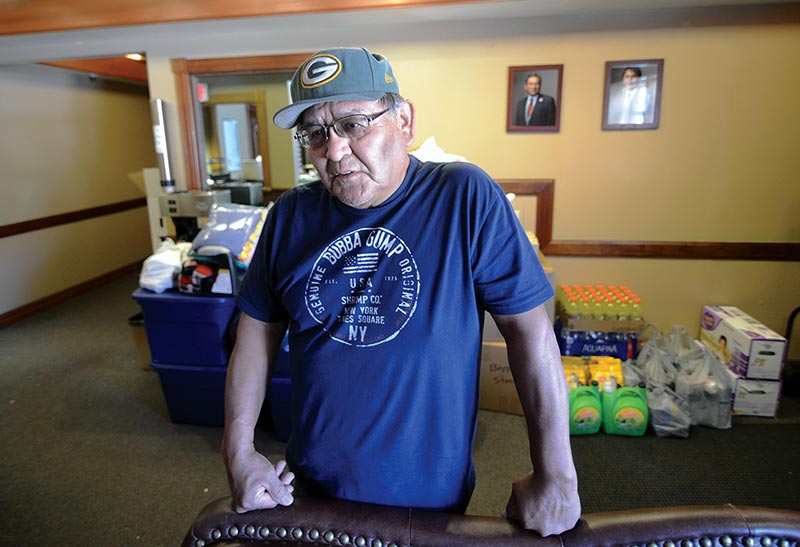 WINDOW ROCK
A father said him and his wife could not sleep after realizing Hurricane Harvey would hit Houston.
Frank Y. Begay said they started texting their daughter, Deidra Kim Begay-Jackson, originally from Crownpoint, New Mexico, asking where the water was.
Frank and his wife, Bettie Begay, both from Crownpoint, said they hardly got any sleep since Harvey made landfall last Friday night on Aug. 25. When they did manage to get some shut-eye, they'd wake in the middle of the night and start wondering all over again of their daughter and Houstonians who've lost homes.
Frank and his wife stopped by the Office of the President and Vice President to drop off some toiletry items and school supplies Saturday afternoon in Window Rock. Their smiles seemed to suggest relief now that the floods began receding, but understood the devastation Harvey left probably profoundly changed things for the city.
"I really sympathize for the people who were affected because their homes are gone," he said. "As parents it's hard to not rush down there. I asked to see if I could take some stuff down there to her. But she said 'no, dad don't come down, yet.'"
With roads still not completely cleared of debris and long lines at the gas pumps due to severe shortages, Begay said his daughter convinced him that it was not a good time to try to help.
The Federal Emergency Management Administration said more than 42,000 people have sought refuge in almost 250 Red Cross shelters in Texas and 1,487 people in Louisiana. To date, over 3 million meals, 3,190,000 liters of water, 9,900 blankets have been provided. FEMA has also begun opening Disaster Recovery Centers. The first recovery center was opened at the Edna High School Football Stadium in Edna, Texas, with more on the way. Officials encouraged flood victims to call 1-800-621-3362, if they needed help.
Frank said his daughter's home was ok since it was located in an area that was above the water levels. He said he felt "they were fortunate the water receded" and never reached their front door.
His wife added that "it's been heartbreaking" watching all the devastation on the news.
"We've been communicating by text and phone calls. Sometimes it's been hard to sleep," Bettie said.
Begaye's staff assistant Michele Crank told Frank and Bettie their items and other items they collected was going to be taken to Houston, and to let as many Navajo families as possible to know of their planned trip.
Crank thanked them and returned to her office. As soon as she sat back down, her phone rang: it was a woman living in Houston.
The woman told Crank she has three children and the roof of their home was damaged. She said critters and insects were now able to get into their home.
Crank told her Navajo Nation President Russell Begaye and Vice President Jonathan Nez would be in Houston Sunday morning at the First Indian Baptist Church (7937 Mendez Street) in Houston at 9 a.m., to meet with Navajo families and give away the donated items.
The woman said she worked nights and would try to make it. She thanked Crank and hung up.
Crank seemed overwhelmed after hanging up the phone, but remained composed. She let out a deep slow breath and smiled.
"Far too often people will call our office and say 'are we doing anything for our Navajo families in the Houston area?' They ask that, but it starts from them too. When they call and ask if the government is doing anything for the Navajo people, my question back to them is 'would you like to make a donation or when would you like to bring in your donation?' Because I think donations and helping each other starts from individuals themselves."
---