Richelle Montoya remains focused on families, education, infrastructure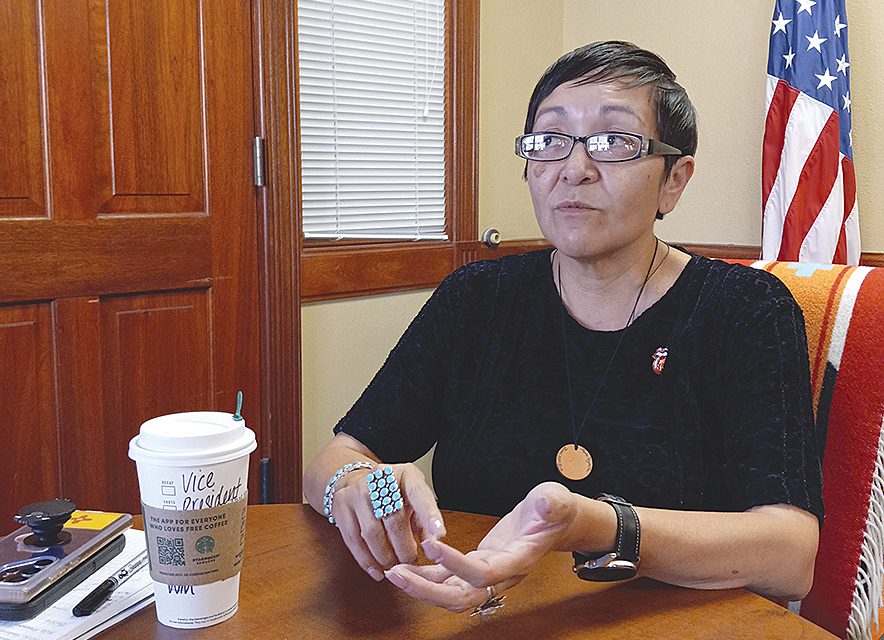 WINDOW ROCK
Navajo Nation Vice President Richelle Montoya stands resilient.
In an Aug. 1 interview at the president's office, Montoya covered several topics, including her first 100 days in office, the recent Supreme Court ruling upholding tribal sovereignty and the Indian Child Welfare Act, Navajo language revitalization, and the importance of kindness and respect.
From her office, the tribal vice president has a stellar view of the Window Rock monument.
Montoya's office is decorated with various sash belts worn by her daughter Autumn Montoya, the 2018-19 Miss Navajo Nation (including a framed photo of her wearing her crown), her collection of books, a Dead Pawn Skateboard (her husband is a collector), and a handmade banner welcoming her to the community of Red Valley.
Other items completing her office decor include the American and Navajo Nation flags, a framed sand painting of the president's seal, pottery, paintings, and a Pendleton shawl draped on her seat.
The vice president was dressed in a black velveteen blouse, a blue skirt with a floral print, a silver concho belt, a rectangular, cluster-style ring on her right middle finger, a cluster-style turquoise bracelet on her right arm, a pendant necklace, an iWatch on her left arm, a silver Zia sun ring crowned with turquoise on her left middle finger, and a Rolling Stones pin attached to her lapel.
Before the interview, Montoya had just returned from Starbucks and said her favorite drink was the white chocolate mocha (her morning beverage) or a cinnamon dolce latte.
Read the full story in the Aug. 10 edition of the Navajo Times.
---