Roessel is new Diné College prez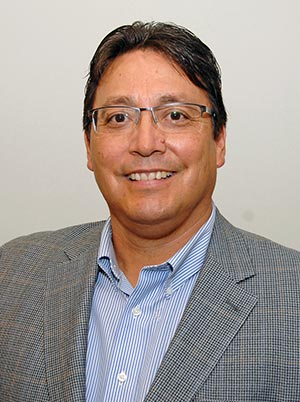 TSAILE, Ariz.
Charles "Monty" Roessel has been selected as the new president of Diné College.
Officials at the college said Wednesday morning that a press release from the college would be released that afternoon but this would have been past the Navajo Times' deadline.
In some ways, Roessel's choice as the college's new president is fitting because his father, Bob Roessel, was one of the college's co-founders and throughout his life, Bob Roessel was one of the college's major supporters.
His son's journey to this position has been filled with bumps along the way.
A renowned photographer in his early years, Monty Roessel's career began in 1985 when he became a photographer for the Navajo Times during the 16 months it was a daily. But Roessel's role at the paper was more than just a photographer, as he was involved in all of the major decisions involving the paper, along with the paper's top executive, Mark Trahant.
After the paper was shut down by then-chairman Peter MacDonald, Roessel did some freelance photography work. Eventually, he was named superintendent of the Rough Rock Demonstration School, which also has a history with his father.
He served as director there for a number of years and then, in 2013, he was appointed director of the U. S. Bureau of Indian Education, the top federal agency dealing with the education of Native children.
Roessel served there for more than two years, when this past March he made headlines when he was demoted in the aftermath of findings by the Interior Department's Office of the Inspector General that criticized some of his actions while in office.
An audit of Roessel's program accused the director of using his position to help a woman who he reportedly had a romantic relationship with get a job. The audit also accused him of using his position to help a relative get a job with the Navajo Nation.
Once the audit was made public, Roessel was demoted and shortly thereafter, he resigned.
---