'The councilman from Gallup'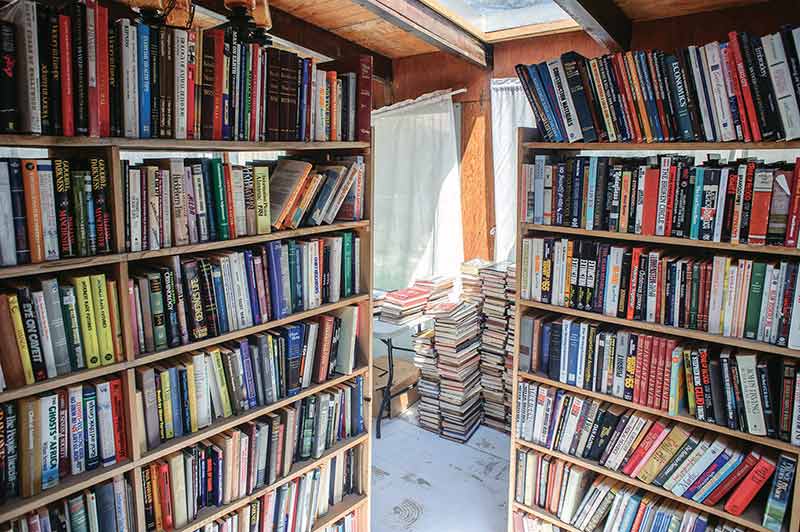 Times' correspondent donates 13,000 books to library
WINDOW ROCK
Navajo Times correspondent Bill Donovan is not only legendary, having reported on the Navajo Nation since 1970, but he's also an avid reader.
His book collection numbers 13,182 and as he collected them over the years he intended to one day open a bookstore. But, in a today's time of Kindles E-readers, which Donovan does own, and other quick resources to obtain literature without having to bother purchasing a book, that dream did not happen.
"I love to read," said Donovan, sitting among part of his collection that covers an entire bedroom. "I've always been a collector. I always thought I'd open a book store one day but the Internet killed that idea."
So on to the next best option. Donovan has decided he will donate a large majority of his collection to the Navajo Nation Museum in Window Rock.
"One way that I was able to afford the books was because I freelance on what was happening on the Navajo Nation," said Donovan. "Most of the money I made was by freelancing and so I thought it fitting to give the books to the Navajo Nation … coming back full circle."
For 45 years, Donovan said he purchased at least 150 to 200 books annually. When he was thinking of selling his collection, the appraisal price came to about $99,000. There are duplicates within his collection but he is hoping those will go to other libraries on the Navajo Nation.
Most of his reading happens during sessions of the Navajo Nation Council. As a young, non-Navajo reporter, at a time when delegates would speak in Navajo, Donovan said he would take books to read as he waited for the lawmakers' debates to finish.
Since he was always at the Council, he was dubbed "the councilman from Gallup."
---