Two Diné magistrate judges take oath of office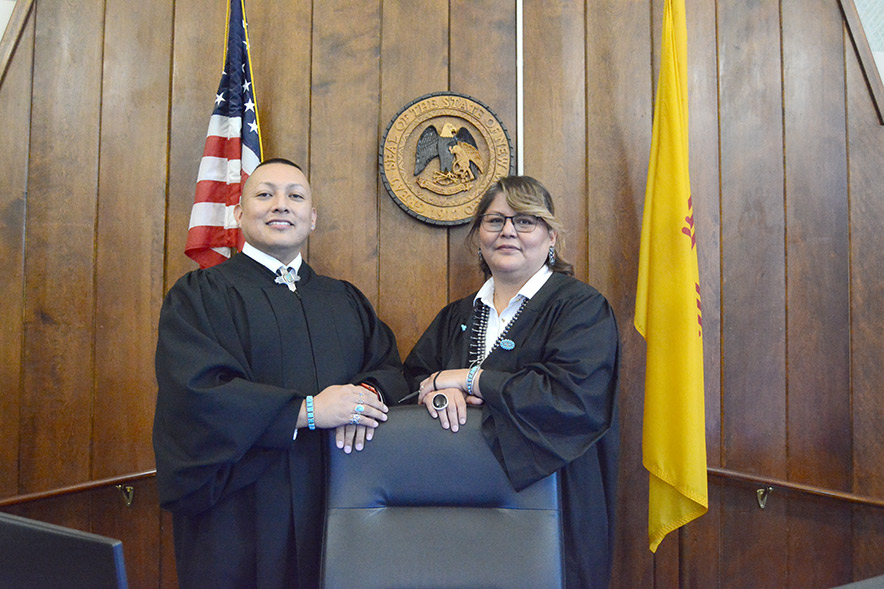 GALLUP
On Monday afternoon, McKinley County Court held a swearing-in ceremony for McKinley County judges Virginia Yazzie and Brent Detsoi.
Hon. R. David Pederson officiated the swearing-in in Gallup.
Yazzie and Detsoi officially took their oaths of office earlier in the month at a private ceremony allowing both to begin their respective terms. This is the second term for Yazzie, who was initially elected to the magistrate court in 2018.
Yazzie is 'Áshįįhí and born for Tó'aheedlíinii. Her maternal grandfather is Tó Baazhní'ázhí and her paternal grandfather is Tódích'íi'nii.
Yazzie has been very passionate about developing a DWI treatment program for offenders. Yazzie explains that through much research and trial by reality, DWI treatment programs need to be customized to each individual as each individual's circumstances are similar yet not the same.
Thorough screenings are performed to detail an individual's needs and support and monitored throughout treatment completion.
Yazzie appreciates the hard work of DWI Treatment Coordinator Shanell Franklin who has not tired in her efforts to implement this initiative and move forward with more programs in the future.
"Ms. Franklin has been the backbone of the program," Yazzie said. "Having seen this program go from the planning phase to full implementation was a great task and a lot of time, dedication, and hard work."
Detsoi is now the youngest magistrate judge in New Mexico. Detsoi is Tó'aheedlíinii and born for Tábąąhá. His maternal grandfather is Kinłichíi'nii, and his paternal grandfather is Táchii'nii.
Detsoi's grandfather, Wayne Arviso, a World War II veteran, and his grandmother, Loretta Morris, a longtime district judge for the Navajo Nation, were in attendance to witness their grandson's swearing-in.
"This has been an emotional journey," Detsoi said. "To be passed that torch and carry on a legacy in my family is such an honor.
"They paved the way and helped me hit the ground running," he added. "I also look forward to working with Judge Yazzie on the DWI Treatment Court and really help the people."
Magistrate Judge Cynthia Sanders was also sworn in.
---