Wool and grit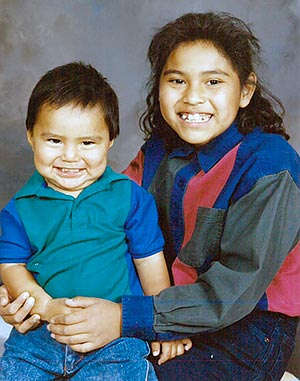 Siblings find healing after parents' death
WINDOW ROCK
Carrie Tsosie-Jim will always remember how she and her younger brother were forced to leave their home in Colorado to begin a new life in Farmington.
In 2007, their mother was found murdered outside their Colorado home. Days later, her father's body was discovered in Arizona in the Navajo Nation, an apparent suicide.
When she recounts those tragedies, both of which are still being investigated, she describes how she felt – as if bricks were falling and piling on top of her.
Tsosie-Jim, now 30 years old, specifically remembers leaving the place she called home in Cortez, Colo., in a rickety 1996 Dodge Ram truck.
"Certainly, it was a shock for both me and my brother in the first year," explained the Sweetwater, Ariz. native. "We were very young and inexperienced and by ourselves."
Tsosie-Jim had just completed her undergraduate education from Stanford University in 2006, where she graduated with a double major in psychology and American studies. Her goal was to help her late parents Harold and Anita Tsosie.
But, before she could actually help, tragedy struck – first with their divorce proceedings and then their subsequent passing.
Reno Tsosie, the younger brother who now works in the fashion industry in New York City, remembers it as a time of uncertainty.
"I felt there was a lot of uncertainty going forward mainly because I didn't know what was going to happen in my immediate future and long-term future," he said from his apartment in Queens, NY.
During that ordeal, Tsosie-Jim stated that the tragedy was an unfortunate family drama "spiraling and spiraling and spiraling" out of control.
The Dodge pickup is all she remembers.
And, in spite of the loss, Tsosie-Jim had to focus her efforts on raising Reno, with the goal of getting him through college, regardless of their circumstances.
"I didn't know how to do anything, but I knew how to graduate from college," Tsosie-Jim said. "And I made sure that my brother was going to go to college."
To help her then 13-year-old brother achieve at Navajo Prep in Farmington, Tsosie-Jim had to put her life on hold for about eight years. Doing so required her to rely on rug weaving, a skill she learned from her late mother, Anita, considered a master weaver, and other matrilineal clan members.
---