Youngest Navajo president ready to face momentous challenges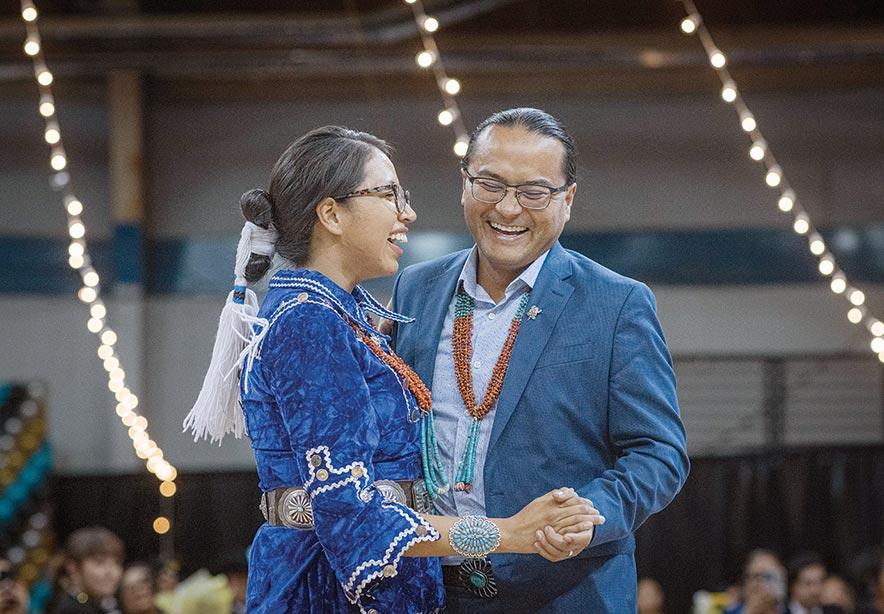 FORT DEFIANCE
The young man from Red Mesa, Arizona, has officially taken the wheel.
Buu Nygren's nine-month journey that began with his official announcement at the Navajo Nation Veterans Memorial Park in Window Rock stood at the pinnacle of his accomplishment – the first step toward what he's been calling Yideeską́ádi Nitsáhákees.
Nygren, who turned 36 on Christmas, took the oath of office at 12:06 p.m. on Tuesday and became the Navajo Nation's 10th president at the Bee Hółdzil Fighting Scouts Events Center in Fort Defiance.
For the next 48 months, he's been saying he has to prove he's worthy of a second term.
But on Tuesday, he stood at the podium and told the Diné people, who donned their all-too-familiar masks because of the COVID-19 pandemic, that he would not be wasting time to help the people see forward movement from the tribal government.
Behind him sat 24 elected members of the 25th Navajo Nation Council – 16 of whom are primarily new to tribal politics – and all watched the man with a quiet gaze. Hours later, after their swearing-in ceremony, they chose Otto Tso to retain him as Speaker Pro Tem.
Nine new councils are women, which is not unique to the tribal Council. When the Council was made up of 88 council delegates, nine women once rolled the dice and gambled with the people's future and well-being alongside the men. The difference is the Council now consists of 24 delegates – with the ratio now being almost evenly split between men and women.
The difference now includes Richelle Montoya serving as the Navajo Nation's Vice President, the first woman to do so.
Nygren smiled throughout the oath as his wife, former Arizona state Rep. Jasmine Blackwater-Nygren stood behind him with their daughter. His grandmother Marilyn Slim held a Navajo basket containing a Bible, which Nygren used to take his oath.
Nygren, who's never held a political office, spoke to the crowd as they cheered for him and opened his speech, thanking his supporters.
"I just want to thank you so much to each and every one of you," he said to a cheering crowd.
Nygren told the people he was ready to begin working with the 25th Navajo Nation Council, which later convened to conduct its first-order business and elect a Speaker Pro Tem.
"One of the things I've always said as a united Navajo Nation, leadership is going to be strong; it's going to move things forward," Nygren said. "We can start talking about the basic needs of our Navajo people."
To help his administration unite the Navajo leadership, Nygren and Montoya have enlisted Patrick Sandoval to lead a team of division directors. Sandoval is no stranger to politics, and he's helped former President Joe Shirley Jr. during both of his tenures. Sandoval followed Shirley to Chinle, where he continued assisting the former president in pushing the Apache County agenda for the last several years.
Nygren faces a gauntlet of challenges he said he'd tackle when he took office and campaigned to combat social ills impacting the tribe.
"We campaigned on how do we combat the everyday things that hurt and go up against our people like poverty, hunger, thirst, sickness, old age, greed, jealousy, and laziness," he said.
Improving roads on the reservation has also been an issue Nygren has said throughout his campaign he'd tackle. His solution, he told the crowd on Tuesday, was to create gravel pits throughout the Nation, which would theoretically alleviate the amount of time needed to repair roads and build roads.
Having never served in any political position, Nygren said his administration would begin working toward bettering life for the Navajo people.
"We have one mission: let's get basic services to the Navajo people," he said. "We need water. We need roads. We need public safety. So, as your next Navajo Nation president, I will not hesitate. I will do whatever it takes to make sure that our people have a chance."
His predecessor, former President Jonathan Nez, and his former vice president Myron Lizer sat with their wives in the crowd, whom he acknowledged and thanked.
---