Zah remembered at memorial service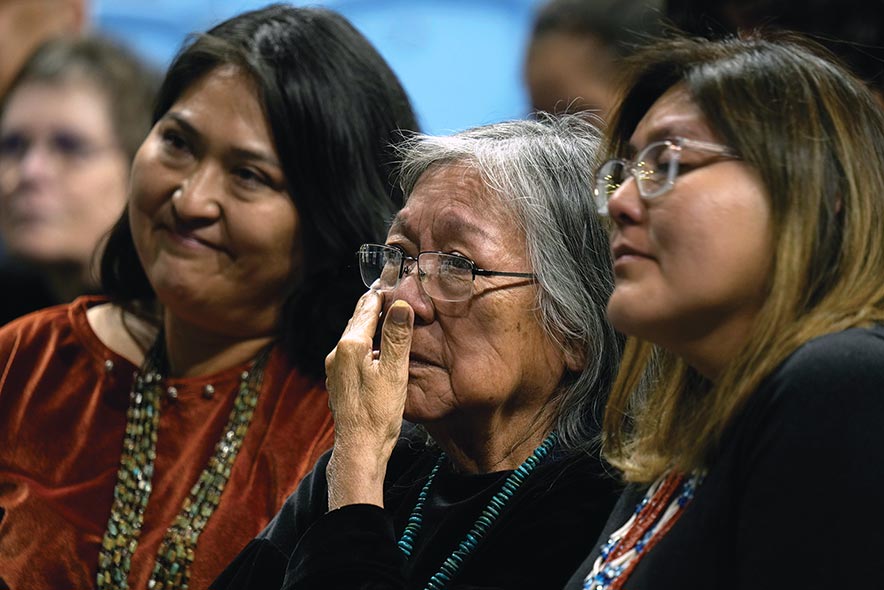 FORT DEFIANCE
Peterson Zah, the father, the leader, and the exemplary servant who whistled while building a home for his family, was remembered and honored after being laid to rest on Saturday.
Zah was 85 when he lost his battle with cancer on Tuesday evening. He was buried in Low Mountain, Arizona, at a family cemetery. After the funeral, a memorial was held at the Bee Ho?dzil Fighting Scouts Events Center in Fort Defiance.
Admirers had a chance to share stories of the impacts and accomplishments he made for the Navajo people.
Zah was born in the Keams Canyon, Arizona, area on Dec. 2, 1937. He was Kinyaa'áanii, born for Táchii'nii. His maternal grandfathers were Tódích'íi'nii, and his paternal grandfathers were Tó'áhání.
He attended the Phoenix Indian School, later enrolling at Phoenix Community College and eventually Arizona State University, where he received a bachelor's in 1963. He returned home and taught Navajos the carpentry trade. He co-founded and later became executive director of DNA-People's Legal Services, a nonprofit legal services program, and assisted the Navajo people in legal matters.
He then served as chairman of the Navajo Nation from 1983 to 1987 and became the first Navajo Nation president from 1991 to 1995. After he served the Navajo people, Zah turned his attention to helping the Navajo youth.
Zah took on the role as a special advisor at ASU, where he influenced Navajo Nation President Buu Nygren and Speaker Crystalyne Curley — both are ASU alums. He stepped down in 2011.
Zah never stopped working for the people after his tenure at ASU.
'Betterment' for Diné
In 2019, he was involved in discussions at Diné College to create the first law school in the Navajo Nation at a two-day symposium, according to a 2019 Diné College press release.
Zah attended the symposium, where he partook in discussions about law school accreditation, core student courses and specializations, judicial advocacy, law school naming suggestions, and traditional Navajo law.
Zah was quoted at the time that creating a law school in the Navajo Nation was needed "for the betterment of the Navajo people."
"We need to grow. We have the people to teach the uniqueness of Navajo law," the late Navajo leader was quoted in 2019 by Diné College.
Creating a law school in the Navajo Nation would be a first at a tribal college or university.
Being the concerned leader, during the height of the COVID-19 pandemic in 2021, the former president was at Fire Rock Casino to address concerns that the public service announcement on COVID-19 being announced inside the casino was not loud enough for casino patrons to hear.
"I didn't hear any of the PSA while inside because it's so noisy," he said during a 2021 interview with the Navajo Times, adding the announcement in Navajo was clear and concise. "But you can only hear that clear outside; inside, you can't really understand it."
Zah said he was concerned no one would hear the COVID-19 safety guidelines everyone needed to follow. His other concern was that since many Navajo people have gotten both doses of the vaccines, many might become emboldened.
"I was concerned because people have this attitude that because of the shots, they say, 'Hey, I'm immune; I don't have to worry about the virus. So, when I go places, I'm gonna take mine (mask) off,"' he said at the time.
A family man
His children, Eileen Zah, Keeyonnie Zah, and Elaine Beyal, remembered their father at the memorial service. His eldest daughter spoke on their behalf and said that they recognized his accomplishments and remembered him as the family man who built their home for their mother, Rosalind Zah.
"Growing up, we had a relatively normal life and family. We experienced love, and our dad went to work and came home every day. He loved us deeply; he loved our mom deeply," Eileen said.
She remembered her father's devotion to their mother and his ability as a great storyteller to communicate and set examples for them.
His laughter, Eileen shared, filled rooms and at family cookouts.
"He had the most wonderful laugh," she said. "He was always in the middle, laughing with everyone, enjoying every moment. We can still hear his laugh, faintly echoing throughout our family home."
Former Hopi Chairman Ivan Sydney expressed his pain and gratitude for his beloved friend and his loss.
"Pete, I know you're listening," Sydney said.
Sydney said he was at home when he got the news.
"For the first time as a politician, I was lost for words," he shared.
Like everyone else, he said he felt "sorrow and hurt" by his friend's loss to cancer.
"I didn't know what to do. My wife looked at me and said, 'What's the matter?'" he remembered.
Sydney shared an anecdote of a time when Zah was running for chairman.
"My grandmother was about 90 years old. She said to me, 'Grandson, your friend is going to be the next chairman because this morning I went out to the cornfield, I saw a flock of crows going overhead, saying Zah, Zah! Even the crows know," he said, which drew laughter from the crowd.
Among his accomplishments as chairman was the establishment of the Navajo Nation's Permanent Trust Fund, which continues to produce revenue to fund direct services and projects throughout the Navajo Nation.
President Joe Biden and actor Robert Redford also extended their condolences to the Zah family.
Zah received honorary doctoral degrees from Arizona State University, Colorado College, and The College of Santa Fe. He was the 2008 recipient of the Martin Luther King, Jr. Servant Leadership Award.
---