Council dips into tribe's unreserved account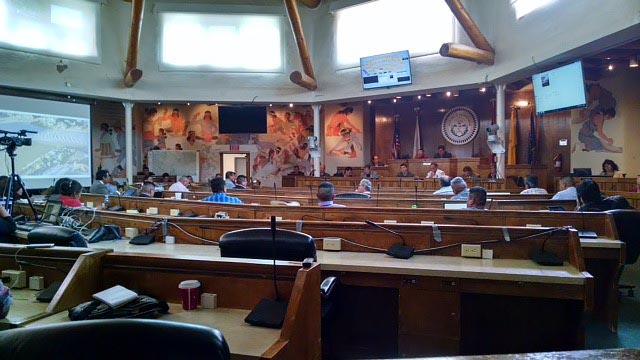 WINDOW ROCK
Debate on supplemental funding legislations requesting for monies from the Unreserved, Undesignated Fund Balance were all heavily discussed during the 23rd Navajo Nation Winter council session.
During the session, six different legislations were presented asking for supplemental funding for various projects to be taken out of the $14 million fund. And with recent discussions between the Budget and Finance Committee and the three branch chiefs of possibly putting a moratorium on taking money from this fund, these proposals were heavily discussed.
The first legislation was from Speaker LoRenzo Bates (T'iistoh Sikaad/Nenahnezad/Upper Fruitland/Tse' Daa'Kaan/Newcomb/San Juan), who sponsored a bill requesting for $270,000 to go toward the Tiis Tsoh Sikaad fencing project.
He said this project has been in the works for quite some time and is greatly needed in order to keep horses and cattle from crossing different chapter districts.
"The basis is to redo the fence line between two districts," Bates said. "It's a historical fence line. It also works in conjunction with range management because cattle and horses are crossing from one district into another."
There has been $123,168 already expended into the project, as well as archeological studies that have been done on the fence line. Even with the fence seen as beneficial and a needed project the legislation was tabled after delegates began questioning whether this legislation takes importance.
"I know during a recent Budget and Finance meeting there was a question of should there be a moratorium so we have a better revenue projection, and the answer was 'yes,'" said Council Delegate Dwight Witherspoon (Hard Rock/Forest Lake/Pinon/Black Mesa/Whippoorwill). "This is obviously a great project, like many others, but should we support it or are the chapters willing to table it?"
Bates responded to Witherspoon by saying he and his chapters would not be hesitant to table the legislation. The other legislation that was tabled was the request for $340,725 to be used from the fund to go toward the Dzil Yijiin remodeling project.
A bill requesting $1.7 million from the fund to go toward stipends for district grazing committees, the eastern land board and major irrigation farm boards was passed but not without a lengthy debate.
---