Election office waiting for ruling by Supreme Court on election issue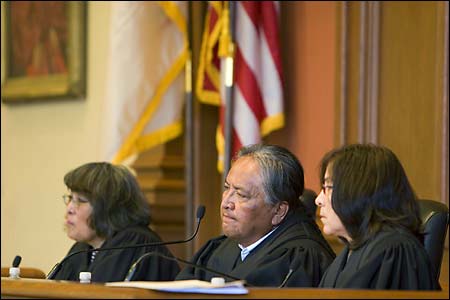 WINDOW ROCK
Briefs filed in the last week before the Navajo Supreme Court by a number of parties, including Dale Tsosie, Hank Whitethorne and the Navajo Election Administration are all encouraging the court to order that the special election for tribal president be held as soon as possible.
Joe Shirley Jr. and Russell Begaye, the two official candidates for the special election, are both expected to file briefs, as well, in the next couple of days.
The are asking that the Supreme Court reject attempts by the Navajo Nation Council to start the process over again and hold a primary in June and a general election in August.
The briefs filed by Tsosie, Whitethorne and the election administration all contend that tribal law requires that an election be held between Shirley and Begaye and that there is no reason to delay the process any longer than it takes to get the ballots printed and early voting started.
Edison Wauneka, director of the Navajo election office, said his office is still adhering to the tribal election code and especially section 44, which states that if a candidate running for tribal president is disqualified during the general election, the person who came in third in the primary takes his place.
---