Supreme Court sets dates to hear new election complaint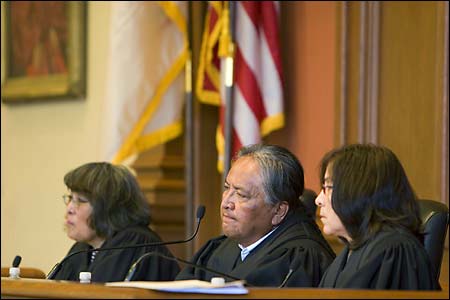 WINDOW ROCK
The possibility of a special election to elect a new tribal president in January is now history.
The Navajo Supreme Court on Friday issued guidelines in connection with a motion filed by two losing candidates in the August primary who are still trying to get the special election held as soon as possible between Joe Shirley Jr. and Russell Begaye.
The January dates were voided when the supreme court set up a briefing schedule on the case that continues to Feb. 6. No dates have been set for oral arguments.
This means that the earliest that a special election can be held will be mid-March.
A Navajo Nation Council resolution, passed in December, calls for the election process to start all over again with a new primary in June and a general election in August.
But the motion filed by Dale Tsosie and Hank Whitethorne continues to seek an election with Shirley and Begaye the only candidates.
The two are also trying to reverse another decision made by the council in December which pardons members of the Navajo Board of Election Supervisors who were removed from office by the supreme court for refusing to go along with previous orders to take Chris Deschene off the ballot for failure to show that he met the requirement to be fluent in the Navajo language.
Tsosie and Whitethorne, in their motion, asked the supreme court to remove Edison Wauneka from his position as director of the tribe's election office for failure to hold the election by the deadline set up by the supreme court.
They also wanted the supreme court to remove those council delegates who voted to approve a new primary and general election and who have been re-elected to office.
The notice put out by the court on Friday, however, said the supreme court will not take any action against Wauneka and those council delegates at this time.
The supreme court also offered both Shirley and Begaye an opportunity to file their own briefs to the supreme court by Feb. 6.